Today is St. Patrick's Day, and there is no corned beef on the horizon for me. I *am* wearing lots of green, though, because getting pinched would just make a lousy day worse. Emotionally I'm still incredibly happy and optimistic, but less than three weeks after my last cold, I'm back to being sick.
I have always bragged about how infrequently I catch colds, and now I find myself yet again with a horrible, wet, hacking cough. It's really awful - and teaching is the worst, I have had to bring my water bottle to class in order to stay hydrated enough to not hack myself to death while teaching. I went to the gym last night and cranked out 1050 calories on the elliptical with only minor coughing, but once I left it got much worse - and it was actually quite warm out, so I can't blame it on the cold weather. I ran a couple quick errands, then came home and snuggled up on the couch with my two sickness staples:
and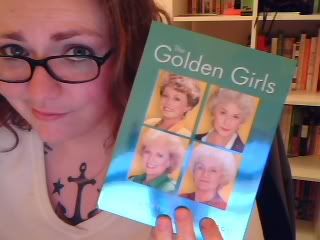 I have absolutely no shame.
Seriously, though ... I used to get sick once a year at most! Perhaps my newfound lack of immunity to disease is from working with the public - a few of my students are sick now, too. Or from spending so much time at the gym - it's easy not to get sick when you don't go out and do things with other possibly sick people. I'd like to think this is not another thin person thing that I will have to get used to, because I'd be okay with crying over every new pair of jeans for the rest of my life as long as I don't have to cough myself to death so often!
Tonight I'm skipping the gym in favor of soup for dinner and early bedtime - as long as I feel better, I'll make it up tomorrow. I have to take care of myself and get well so I can fully enjoy my Spring Break! I'm looking forward to spring cleaning, and I'm hoping that the weather isn't as dreary as the forecast looks right now, because I'd love to go down to the lake for my first outdoor run in Chicago!