I had a really great phone conversation with my best friend Jill last night. It's really hard living nine hundred miles away from her, especially since we were constantly together through most of college.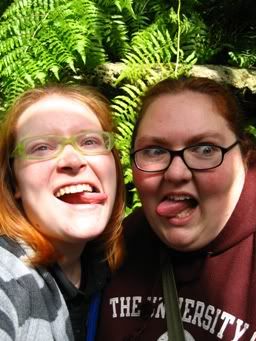 It's also very strange right now because we have not seen each other at all since I started losing weight - we were supposed to hang out when I was in Connecticut over winter break but a giant snowstorm kept us on our opposite sides of the state. We occasionally video chat, but it's not the same as going out and being crazy or even just sitting down and having a real conversation with the person who knows you best.
Last night we were talking about some of the struggles I've been having lately with my transitioning body, and it was really interesting to hear the ideas of someone who knew me at my biggest. She's a photographer and she always takes tons of pictures whenever we go on adventures, so my "before" has been fairly well-documented. From last July: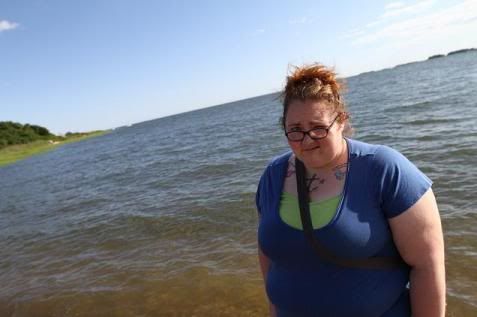 "Unhappy" would be an understatement.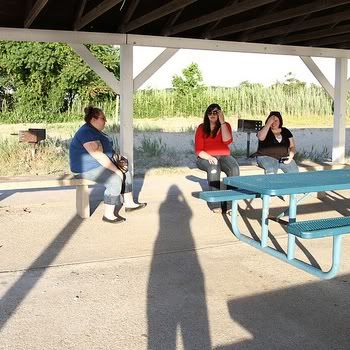 *sigh* Compared to my new side view - holy moley! Sometimes it's hard for me to see that I've changed all that much, but pictures like this help me see what really terrible shape I was in and just how far I've come.
Jill is my best friend, so the size of my body was never really something she thought about, but looking at some of my "before" pictures now, she agrees that it's hard to recognize that person. I made huge offline progress by sending her
the picture
from my post the other day, and she was really positive and supportive. Offline, I'm an extremely secretive person, even with my best friends sometimes, so exposing myself like this was a pretty big deal for me, and I'm very proud of myself for it.
I've had a strange week. I'm not really sure how I feel about it all. In terms of weight loss, it's been alright - I lost 3 more pounds this week, bringing me to 229 for a total of 116 lost. That's good, I think, although I feel like I was kind of sluggish and wishy-washy all week. General malaise, can't pinpoint the cause exactly. Part winter, part work stress, part just general life exhaustion, I think. I'm really looking forward to catching up on sleep tomorrow and then grading this stack of compositions and the exams my students will be taking today - maybe if it's nice out, I'll bring them to the park or somewhere where I can sit in the sun and enjoy life a little. Wonderful English word I recently learned:
apricity
- the warmth of the sun in winter. I'm hoping for some this weekend.
What about you?
What are you hoping for this weekend?