I did not realize until nearly 8pm last night that it wasn't February anymore. To tell the truth, my life operates on a more academic calendar than anything else. I knew yesterday was Tuesday ... and I knew it was week 8, day 1 ... but the month or date didn't cross my mind. I'd likely still be in a February-like stupor even now if I didn't go to record my workout from last night in Excel and realize I needed to make a new document for the new month.
My February workouts were alright, I'd say.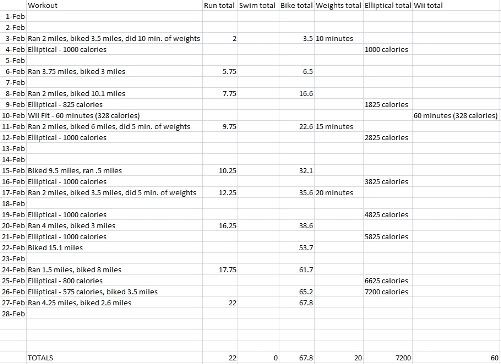 Room for improvement in many areas. I didn't swim at all in February - I finally had to admit that my bathing suit was way too big and I didn't want to be showing off any of my business at a public pool. I want to get back in the water, but I need to find a decent new suit first, and given the family situation, buying a bathing suit just wasn't on my February priorities list. It's at the top of the list for March, though, because I'm dying to get back in the pool.
There are quite a few blank days - some were planned rest days, but blocks of two days in a row mean something wasn't right. The first two, blizzard; the second two, Dad. I'm unapologetic for and unbothered by these. Life had to come first.
My goal of running 345 miles in 2011 is coming along well - I missed a few runs in February, including a 3.75 mile long run, but I'm still confident and holding strong. Including last night's 2 mile run, I've logged 53.33 miles - about 15.5% of my goal. I'm a little short, but I'm sure I'll make up for it this month when my long runs get even longer!
When I was in elementary school, the principal would always say "rabbit, rabbit" when doing the morning announcements on the first day of the month. It's a superstition of sorts, if you say it before you get out of bed, you'll have good luck that month. In my 24 years of life, I've never remembered once, but I'm still really hopeful for March 2011. Less snow, more sunshine, and flowers starting to pop up - not to mention Spring Break in two and a half weeks (not that I'm counting down or anything).
What about you?
What's on deck with you for March? What are you most looking forward to with spring approaching?