Last night, I went to the gym a little later than I usually do; that, paired with the fact that most people aren't on campus for spring break, meant that the gym was pretty empty. It was kind of nice, to be honest - I worked out in the main area with the TVs (I usually use the one random elliptical above the basketball courts) and had to stop myself from working out too much because I had an awful lot of energy. I think it was the combined excitement of a lovely day with nice weather (spring is coming!) and being on vacation.
After my workout, I went to the locker room, and when I realized it was completely empty, I did what I've been dying to do for a few weeks now: I grabbed my camera and took a full-body photo of myself. (Clothes on, no cute undies in this post!)
Something I have a really hard time explaining to people (and even really understanding myself) is that when looking in the mirror, I can't always tell that I have lost weight. And I mean any of it: sometimes I look in the mirror and I still see 345 pound Mary looking back at me. My dad said it's probably because I see myself in the mirror every day, so the gradual changes aren't as drastic to me. It's not just that they aren't drastic - some days, I can't see it at all. It's really, really strange and hard to describe, and I try not to talk about it too much because it's usually met with comments like
"Oh! No way! I can totally tell! You look so great!!!"
Because that's exactly my point -
you
can totally tell, but
I
can't. I'm not fishing for compliments - I'm honestly just aching to see what you see.
Lately, I've been taking pictures of myself almost every day - I'm trying to redefine my mental picture of myself as this smaller person, still in transition but not nearly as big as she used to be. All the pictures I have of myself since high school are all a 300+ pound version of me, and it's so hard to look at them. I'm getting better at not feeling sad or regretful - that girl did great things. And I'm still that girl - just whittled down a bit. It brings me back to the image of the Russian nesting dolls that I'm getting for my weight loss tattoo - there is something completely beautiful, and inside there is something that is just as lovely and wonderful, only a little smaller.
So, here you go: my picture from last night.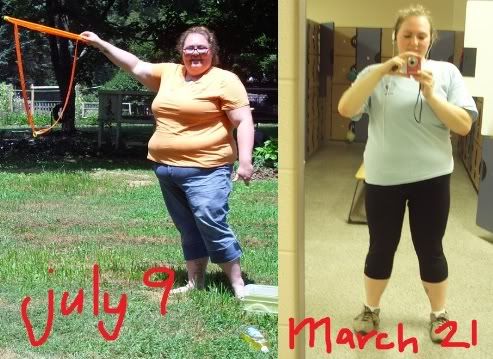 My hair is frizzy from having just worked out like a madwoman, and my shirt is wrinkly because it's huge on me now so I had to secure it behind my back to show my shape a little better for the picture. But these things hardly matter.
I love this picture because even I can see that I've physically changed.
There's definition in my arms. My stomach doesn't protrude out past my chest. My legs are thinner - especially my calves and ankles. And my curves!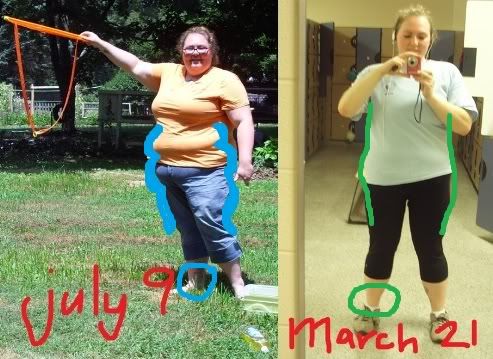 I have some. And they're
nice
.