A lot of my weight issues and anxieties stem from my childhood and my relationship with my family members. Interestingly, though, I find that as I continue on my weight loss journey and make progress on some of my older issues, I'm also developing some new ones.
I'm a big sister to three awesome kids. I have two sisters who are close to me in age (two years between Lisa and me, and two between Lisa and Katie), and a little brother who is just over fourteen years younger than me.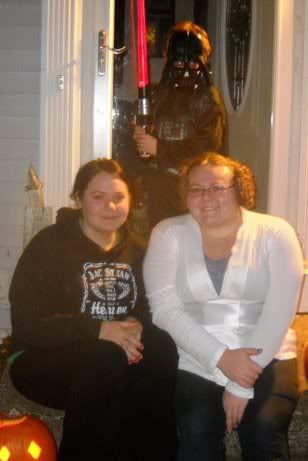 They live about nine hundred miles away from me, and I miss them so much, even though when we all lived together, it was crazy and chaotic and we fought a lot. Not seeing your family every day does that, I guess - you learn to appreciate the time you have together a bit more. In spite of the arguments, though, I've always loved being a big sister. I love being the trail blazer, the role model, the one that they go to when they have questions or want someone to talk to (although with Lisa, that's only recently ... I just wasn't cool enough before I moved away).
In addition to being the oldest sister, I've also always been the biggest sister. At 5'6", I'm the tallest - and at 345 pounds, I was certainly the heaviest. Despite my weight being beyond unhealthy and my height being beyond control, there has always been an odd comfort in these statistics. They're physical reminders that no matter how far away I am, I am still
the big sister
.
Except that now ...
I'm not.
When I left Connecticut in January, I weighed the same as Katie - and now, I'm 32 pounds lighter. I'm only a few pounds heavier than Lisa now - five at the most. And with puberty on the horizon, Dan's going to get taller than me within the next few years. It's another big part of my identity that I need to reshape - redefining "big sister" strictly in terms of age.
Some of my recent anxieties have been related to the idea that I will weigh less than Lisa soon. I know it's not right to make a comparison, and I would never bring it up with her, especially not in a mean or hurtful way. It's more of a shock for me than anything - you see, Lisa was an absolute twig growing up, and while she has gained weight in the past few years, she has never been big the way Katie and I were. Lisa was always
the skinny sister
, and since I still have issues with not being able to completely visualize my weightloss, knowing that the numbers on the scale for Lisa and I are almost the same makes me a little nervous. I still see Lisa as
so small
and me as
so big
.
I guess the anxiety comes not so much from knowing that I will be the smallest sister, but from being forced to visually recognize and come to terms with my physical changes.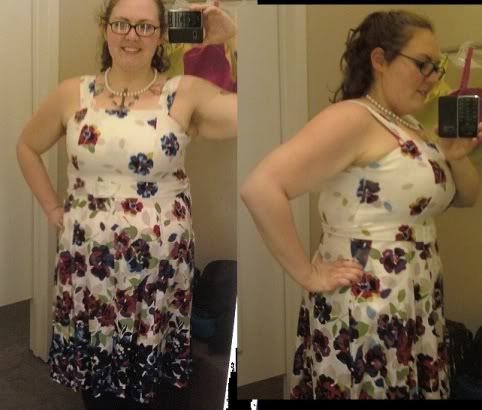 I tried on this dress while bra shopping and fell in love a little ... the 14 was a little snug in the chest, but the 16 fit perfectly. I'm thinking I'll wait a month or two and get it as a welcome-to-onederland present, if it's still available. The best part, though, was that I took advantage of the full-length mirrors and bright lights to try and soak in the image of my smaller body. It's taking a lot of getting used to.