But first!
I wrote a guest post that you can read today over on
Colleen's blog
- talking about the "secrets" of losing over 100 pounds. Feel free to check it out, and I totally recommend following Colleen's blog. She's fun, strong, motivated, and incredibly supportive - and a must-follow if you're one of the 7-day-chip crew!
My picture for the week: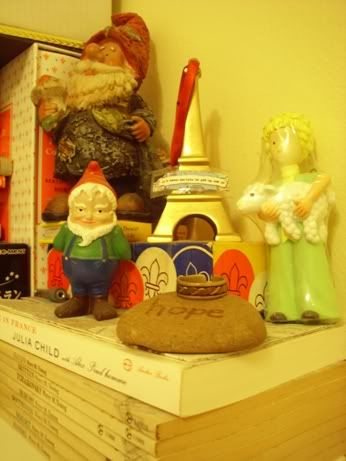 I have two bedrooms in my apartment, so the smaller one I use as an office and library. It's so wonderful - all I need is a comfy chair in there and I'd never leave. This is one of my little areas of knick-knacks on top of a bookshelf. My garden gnomes, my little brass Eiffel Tower, and a perfect Little Prince toy I found at a thrift store that I can't wait to give to my first child someday. Also in this area: a ring, given to me by a boy I used to know - one whose name and story you haven't even heard yet (mercy me, but I have a lot of stories!). I used to wear this ring every single day, until it got too tight - long after the boy himself went away. Now:
I can't wear it. Not that I would - that part of my life is long gone - but still. It just slides right off. Lovely NSV!
What have you done this past week to help you achieve your goals?
(2) My long run yesterday was 4.25 miles, and it took me 52:26 (about 12:20 per mile pace). I'm pleased, especially since I felt a little sluggish towards the end. I'm getting bored of my music, I think - any suggestions for good running tunes?
(3) Yesterday my co-worker and I got a rejection letter from the language symposium committee, so unfortunately we won't be presenting at the conference in April. I'm trying to see this as a singular, unique event and not foreshadowing of continued bad job-related news.
(4) I felt like my teaching was not up to par last week, mostly because I was sick. It was a good week, just not my best.
(5) I mailed five more Postcrossing postcards!
(8) I made a little collage, nothing fancy, but it felt good to create, and it has me wanting to make more stuff. Whatever I come up with this week, I will share next week!
(9) I got my eyebrows waxed! I desperately needed to.
Today's the last day of the month - how do you feel you've done in February?
This was an exceptionally challenging month, and I can look at it in a number of ways. I ran two miles in 24 minutes. My dad had a second heart attack. I binged for the first time in over six months. I ran my longest run ever - 4.25 miles. I "was not among those selected for presentation" at the symposium. I lost 11 pounds. So ... ups and downs. I'm ready for March and everything that I hope it brings: nicer weather, good news on all fronts, and continued success with healthy living.
What is your go-to favourite meal to cook? Share the recipe if possible!
Hmm ... this is a tough one. I love cooking, and I especially love trying new recipes and new ingredients. I'm not sure there's one recipe I cook more than others, though. I have seasonal favorites, I guess ... I love soups in winter, though by now I am getting sick of both winter and soup. I'm ready for spring and some well-made sandwiches!
Share a quote or saying that is inspiring you today.
I really love this quote by Mexican poet Rosario Castellanos:
"I'd rather have a couple of scars than a memory like an empty hope chest."
I have it written out on a Post-It note on my bathroom mirror as part of my non-scale goal to go out and live life no matter what I weigh. Another quote that I love is one from
Maude
- she left a great comment on one of my posts a few weeks ago and at the end she said "I'm so excited for you. You're standing on the edge of great things - the next few years are going to be amazing. I know it! "
Standing on the edge of great things
- I completely love it. A visual representation of that idea has been running around in my mind like crazy lately. I might need to paint it.
What's your make-up routine? Wear any? Lots? Do you have a must-have?
I never used to wear makeup at all, but now that I'm starting to care about what I look like when I leave the house, I've started wearing a little black eyeliner. It seems silly and simple, but it makes me feel pretty and confident, so I'm all for it. Small brag, I guess: I never wear mascara because my eyelashes have always been really long and full. When I was a kid, total strangers would compliment me on them. Weird! I would never say that to a kid, especially one I didn't know.