My picture for the week: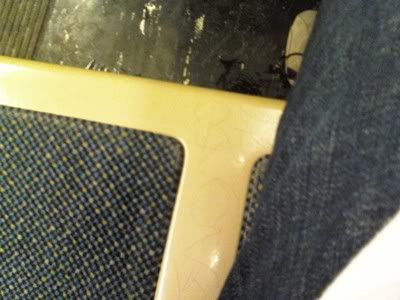 This is a serious NSV for me - this is my formerly gigantic body fitting in ONE seat on the subway. No spilling over, no encroaching on my neighbor's spot. This realization made me unbelievably happy. (Also: the thighs are already loose on these jeans. The waist fits, but my legs are getting really toned because of all the running and biking. No complaints, but it's weird - I would never have thought any part of size 16 jeans would be loose on me!)
What have you done this past week to help you achieve your goals?
(2) This week was really tough - I skipped my long run last Sunday and totally messed up my medium run on Tuesday, but I got my act together and totally kicked butt on Thursday's 2 miler and yesterday's long run - my longest run ever, 4 miles!
(3) I applied for a job! It's not a lecturer job, but it's a position I'm interested in and it would keep me in Chicago. My boss also alluded to the possibility of extending my lecturer contract for next year, so I'm feeling more and more hopeful.
(4) For some reason, my students were very giggly and hyper last week - it was a great week. All the other teachers are baffled by how my students always have the greatest time in class. I just try and make it the kind of class I would want to take: interesting, understandable, relevant, and fun.
(9) It's a little silly, but the thing that I did this week to make me feel gorgeous was to take a few pictures of myself. I had just finished my long run and was totally feeling the runner's high still, so I took some pictures to remind myself of that fantastic happy feeling the next time I feel down.
(I was just out of the shower - wearing a towel, I promise!)
Pretty much everywhere this past week experienced some mild weather – did this change have any effect on you?
Yes! It was in the negatives the week before, so having weather in the mid- to high-40s was heavenly. Given the totally lousy week I was having, the big change made it feel much better.
Walk us through your ideal workout.
I totally love working out - which is not to say that I don't have off days, but in general, I really like being active. If I am not feeling totally enthusiastic, I don't do it that day, because it wouldn't be enjoyable. My current schedule is generally like this:
Sundays: long run (length varies), short bike ride (3-5 miles)


Mondays: elliptical (aim for 800 calories burned)


Tuesdays: medium run (length varies), medium bike ride (5-8 miles)


Wednesdays: elliptical (aim for 1000 calories burned)


Thursdays: short run (2 miles), short bike ride (3-5 miles), weights


Fridays: rest days


Saturdays: elliptical (aim for 1200 calories burned)
With the exception of last week, I generally stick to the schedule for days when I run, but the other days I'm flexible with. If I am not completely feeling it, I do less - or I skip it and do something else, like maybe a little Wii Fit. (I love almost everything, but especially skateboarding and rhythm boxing!)
What happened in the last week that you have to brag about?
I did my longest run ever - a full 4 miles - in 49:37. That's about 12:24 per mile, which is great for me. I registered for the 8k saying I'd need 65:00 to do the whole race (which is 4.97 miles). I'm faster on the road than the treadmill, so that plus the adrenaline of running with 39,999 other people ... I'm hoping to finish in under an hour.
Spring Fever has hit the stores ... what's your favourite thing to shop for in the Spring?
To be honest, I have no idea. I never used to like clothes shopping - it was something I had to do every now and then, and I dreaded it. This is a new year, though, and I'm looking forward to buying fun dresses for spring and summer. Once in college, my best friend Jill needed a dress for an occasion, and she just went into a store, grabbed one, and bought it. It was the cutest dress, and I was unbelievably jealous that she could not only wear something that cute, but that the process was so easy for her. This season, I'll be enjoying some of those experiences myself!