I sat at my desk for nearly an hour and could not bring myself to type a single word. I have so many things to say, but for some reason, the act of writing them out was making me anxious.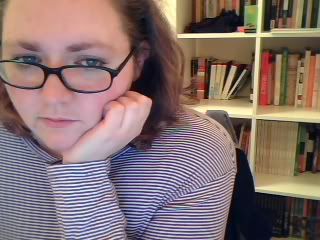 To be honest, I think I didn't want to write them, because that would make them true. (A recurring theme, I guess, if you'll stick with me for a moment.)
So, I recorded a video blog. And I rambled. And cried a little, then a lot. And talked about my thumbs and how I get rough cuticles when I'm stressed. And wore dizzying horizontal stripes. Nearly eleven minutes later, I finally stopped recording. I'll spare you the video (you're welcome), but I'm keeping it for myself. I'll want to look back on this someday, maybe.
My mom called me last night and updated me on my dad's condition. He had another mild heart attack, brought on by his recent stress. His legs have an infection and while amputation is definitely the last resort, the word has been tossed around and is not completely off the table. The worst thing right now, though, is that his kidneys seem to be failing, and at this point, moving him would put him into shock and his body would shut down.
Right now, this is all a waiting game. We're still waiting for details about my dad's condition - specifically, waiting to see if it gets stable enough that he can be brought back home. My mom needs to work in order to pay her bills - she's totally broke, I gave her all of my tax return money so she could fly down and get around down there - so she can't stay in Florida for too long, she needs to get back to work. But if my dad might not be able to be moved, what happens next? He's already depressed, but now, being down there alone, and with failing health?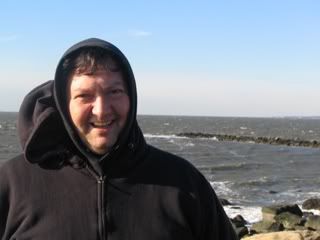 This cannot be good. My mom and his doctors are urging him to write things down - his list of medications, the locations of his important documents, and a will. My father flat-out refused, saying that having a will means that he's going to die. It makes it real.
I'm really overwhelmed with guilt right now, and have been since Sunday afternoon when I first found out my dad was sick. Every time something happens and he ends up in the hospital, I feel guilty. Guilty for taking so many moments for granted. Guilty for moving halfway across the country and pursuing my education and career instead of staying home and taking care of everyone. And guilty for getting to be 345 pounds and not sticking with any of my weight loss plans, because now it might be too late. My first thought is always:
I screwed up. I waited too long, and I couldn't get to where I needed to be in time, and now my dad won't be at my wedding. He won't ever meet my husband. He won't ever meet his grandkids.
I blame myself, even though I know that isn't right. My dad has been burning the other end of the candle too - he's the one who had a heart attack and still continued to eat like garbage and not follow the doctor's exercise orders. But the thing is, when he's gone, I'll still be here, and I'll be left with my feelings of guilt and devastation.
I am fighting every self-harming instinct with everything I have. I ate well yesterday - very well, in fact - and I went to the gym for a run and a bike ride. But the memory of how it feels to get high from binge eating keeps creeping to the front of my mind. Especially after Monday's slip, I'm very aware of the fact that it's not a desire that I want to act on ... but it's still there, taunting me. I want to feel safe. I want to forget all about what's going on. I want the comfortable familiarity that comes with being home - and for me, that's almost entirely a food-related feeling.