Trying, when used as a verb, means the action of testing or putting someone or something to a trial. As an adjective, it means profoundly straining one's powers of endurance. For me, Wednesday will be full of examples of both.
I'm writing this Tuesday night in case I don't have power in the morning - and right now, Chicago is a complete mess. There's a severe blizzard - streets and highways closed, public transit practically halted,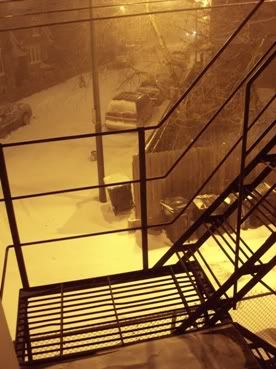 and tons of people in a total panic due to high speed winds, expected heavy snowfall, and "thundersnow," something I'd never heard of but am kind of in love with, despite how dangerous it probably is. It's thunder, lightning, and snow. Incredible.
For the first time in decades, the university where I work has completely shut down. We have a medical center on campus, so in order for the school to shut down, conditions have to be extremely bad. I was told to cut my office hours short this afternoon, so since 2:30 pm and continuing for at least the next day, I'm stuck here at home. All across the city and out into the suburbs, my students are rejoicing, I'm sure. Tomorrow we were supposed to learn our next relative pronoun! Personally, though, I'm feeling really anxious. One, because we only have two weeks for our current chapter, and losing a day means rushing some of the information. And two, because I honestly don't know what to do with myself for an entire day alone in my apartment.
Six months ago, this was my life. Sit on the couch, eat myself sick, watch movies, and play "Sonic the Hedgehog 2." Today would have been a dream. But I'm feeling nervous and really kind of concerned about what I'm going to do with myself all day.
I brought home my stacks of exams and compositions to grade, so I can at least try to be somewhat productive while I sit around all day and wait for the storm to pass and the streets to clear up. But I'm really, really, really, really, really concerned about my eating. Being confined here has a weird effect on me - I get really snack-y. That's not a real word, but I hope you know what I mean ... it's when I start mindlessly searching the cabinets and the fridge for something to nosh on because it's cold outside and I'm bored, lonely, and want to feel comfortable. I caught myself doing it this afternoon, and it bothers me how easily these old habits come back.
I'm especially concerned about eating because my exercise will be limited to Wii Fit until everything clears up around here. I was supposed to run 2.5 miles today, but the gym closed early, and everything's closed tomorrow ... so, more anxiety there. I know it's not a healthy habit, but I weigh myself every morning, and I was already having a lousy week. It's looking like the first week in six months where I won't be posting a loss - I haven't even had no-change weeks - and this week so far shows a one pound gain.
It's incomprehensible to me, because I eat 1200-1300 calories a day and burn 800-1200 calories during each of my workouts, which I do six times a week. This is what I have done for months, but for some reason the past couple of weeks have been slow, and this week it finally halted.
I find myself very mad and frustrated that the numbers aren't adding up, and then I get upset that I'm not practicing what I preach to others. There are so many measures of success - I can feel that my body is changing for the better, my shirts fit better, and my pants are looser in the waist and thighs - but I'm so addicted to numeric successes. Sometimes, I worry that this whole story of mine is a cautionary tale of cycles of addiction, and I haven't truly made progress on recovering from my addiction to compulsive overeating, I've just replaced it with another obsession, a different one that's just as harmful.
Every day, I find new challenges and difficulties in my recovery. The hardest part for me right now is not letting them get the best of me. I am not going to throw in the towel. I refuse to let this win. I refuse to let this defeat me.
And I have a plan.
Tomorrow, I am going to eat the same as if I were going to work. My Lean Cuisine will take 45 minutes in the oven instead of 5 minutes in the microwave, but I will be working with what I have. I will do some grading in the morning, then I will do some Wii Fit in the afternoon, and I will read for pleasure in the evening - likely keep working through "Eating Mindfully," since I'm in desperate need of some progress with my emotional weight loss. My goal through all this is to obtain a sense of balance in my life - not obsession or addiction in any aspect, but a healthy sense of balance with all things. Not just today, not just tomorrow, but every single day of the rest of my life - I will seek balance.