After my spur-of-the-moment triathlon, I decided to start tracking my workouts. Initially, I thought it might be interesting to see if I could complete a "real" triathlon's worth of running, biking, and swimming within a month. There are several different race lengths:

Those lengths are for running, swimming, and biking, respectively (I converted kilometers and meters to miles). Here is my chart for January: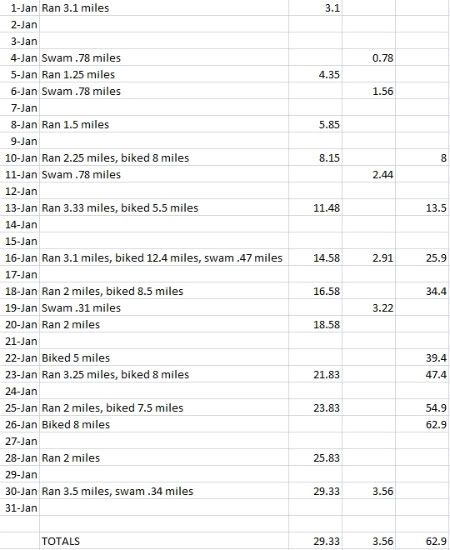 I ended up passing the Ironman lengths for both running and swimming, but only got about half of the biking done. And some people do this in one day! Holy mackarel. I would like to do a triathlon one day, I think. I definitely need to get better at swimming before I do it!
It's interesting, because in general I don't like tracking - I tend to get obsessive over numbers - but I really enjoyed marking my runs, rides, and swims down. I liked being able to look back at the end of the month and see most of my workouts, though I didn't keep track of using the elliptical or Wii Fit. So I made another Excel sheet for February and figured I'd keep tracking this month, too, adding in columns for Wii, elliptical, and weight training.
The chart really got me thinking, and I have decided on a small personal challenge. Since my highest recorded weight was 345 pounds, I want to try and run 345 miles in 2011. It evens out to 28.75 miles per month, which I think is totally do-able, especially with my preparations for Shamrock Shuffle - in January I logged 29.33 miles, which included my 5k on New Years and a couple of long runs for the 8k race training.
What about you?
Do you set personal goals/challenges for workouts? Do you do them monthly, seasonally, yearly?