Sunday afternoon, I was on the bus headed to the gym to go for my long run when I felt my phone vibrating. It was my cousin Sarah.
"Hey, Mary ... my dad's trying to get a hold of you ... your dad is in the hospital...
Sitting all the way in the back of the bus, I called my uncle and tried to stay as calm as possible, hoping no one would see the tears welling up in my eyes.
"... in the hospital ... serious leg infections ... amputation ... maybe had another heart attack ... in his blood ... not sure if it was self-inflicted ... he's been having a hard time lately, with losing Nana and Edy and Papa, and fighting with your mom ... talked to the nurses ... he was saying, you know, my kids, my kids..."
The bus is nearly empty, and I'm the only one in the way back. And I'm absolutely bawling at this point. I thank my uncle for the information, get off the bus as soon as possible, and cross the street to catch the bus heading back home. I called Sarah back and asked if I could come over to her place while I made phone calls and got everything figured out.
The story continues, but at this point, I'm going to let you know that my father
did not
attempt suicide. He did not have another heart attack, and his legs are not being amputated. You should also know that the uncle I spoke to is a total jerk and we're not sure why he would have suggested that as a possibility if he wasn't one hundred percent sure that was what had happened. We're also not one hundred percent sure why my father would have the nurses call one of his brothers and not his immediate family - he is the kind of guy who does not want to cause worry or be a burden to anyone, but still, this is the kind of situation where you need to put all that aside and let your family worry a little bit.
My mom flew down there yesterday and is taking care of the situation now - when she called to check in, she said my dad was glad to see her and that he seemed fine, that his sugar levels and heart rate were under control and his legs are no worse than we knew they were when he left Connecticut.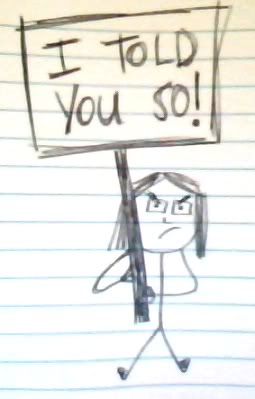 While in Florida taking care of closing down and selling my grandfather's winter home, my father has been trying to be active and eat better. In doing so, however, he has overexerted and undernourished himself - which I had warned him about repeatedly, both before leaving and during every single phone call I've made to check in with him (of which there have been dozens). An imbalance with his blood sugar that he could not seem to regulate was what lead him to call 911, and their reaction to his leg wounds was one of surprise only because they are not his regular doctors and did not yet know his medical history.
I'm glad I am writing about this now and not Sunday night as it all unfolded, because I'm a bit calmer and more level-headed now. Sunday and Monday, I was overwhelmed - the frustration of dealing with my uncle misinforming us mixed with my usual feeling of helplessness from being hundreds of miles away while everyone else gets to be together and take care of one another. I needed to feel control, I needed to feel comfortable ... and so, on Monday, for the first time in over six months ...
I binged.
And I feel really terrible about it.
I have been so strong, I've found other ways to deal with my anxieties, and I really thought I was over the worst of this. And in a way, I suppose, I am. It was familiar, but somehow not like the binges of my past - I didn't order takeout or make a special trip to the grocery store to get whatever I wanted. I just couldn't stop snacking on things I had in the house - it started with strawberries, a mango, and half a cucumber, then my lunchbox snacks: mini Luna bars, a snack pack of Teddy Grahams, a single-serve container of peanut butter.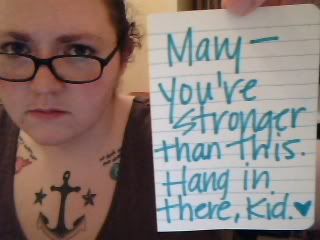 I skipped the gym and ate about 1000 calories more than I planned to for the day.
There are days when I eat more than others, but those I would not consider binges - that's "just" overeating. For me, the difference between overeating and a binge is my intention. When I eat more than I plan to, I'm usually just a little hungrier that day, and it's not a big deal. With a binge, I'm not eating out of hunger - it's boredom, or stress, or frustration. I'm looking to feel something that isn't my emotional pain, and so I seek the physical feeling of fullness or sores in my mouth. I want the calories to make me sleepy so I can pass out and forget about what's happening. I wanted it, but it didn't happen this time - I stopped myself before it got to that point. 1000 extra calories is just barely over my TDEE for the day - but still, I couldn't shake the feeling that I'd wake up weighing 345 pounds, that I'd have to wear my size 28 work pants, that this has all been a dream and I'm just as bad off as I was in August. That I really
can't
do this.
Today is a new day for all of us. My mom and dad are together in Florida, awaiting news from the doctors in the ICU about what he can do next, and planning what happens now - in terms of his health, and their relationship. I'm resetting my binge-free count at zero, having my yogurt for breakfast, and thinking about how to move forward from here. I have my gym bag ready to go run after work today. I woke up and could still feel my collarbones and put on my size 16 jeans. I have
not
failed. I
can
do this. I
am
doing it.