I give every day the very best that I can. Most days, that means all that I have in me - and even then, I try to push myself a little more. But every now and then, "all that I can give" doesn't equal out to very much at all, at least not comparatively. This was one of those weeks - it started rough but ended relatively well. Some days I couldn't give everything I have, but I gave all I could, and that is what matters.
This morning, the scale has me at 236, another three pound loss. I'm feeling neutral, but not about the numbers. My workouts were good but not great (skipped my long 3.75mi run, messed up my medium 2.5mi run, but nailed my short 2mi run), and my eating was fine (with the exception of Monday). My biggest personal concern at the moment is that emotionally, I've had some setbacks. My goal for this weekend is to decompress a little and do some serious soul-searching. Between anxiety about my father's situation, grief about my binge, and guilt about both, I need to step back a little and make a plan for how to deal with these situations without turning to food.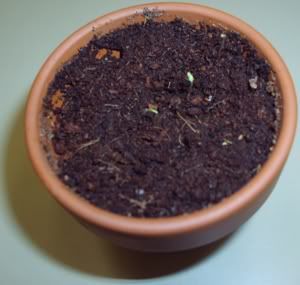 I feel like Monday was just an exceptional low, because most days, a binge doesn't appeal to me. But in case things get really bad again, I need to be prepared.
I'm thinking a trip to the Lincoln Park Zoo might be in order for this weekend. Walk around, take it all in, and maybe bring my notebook and do some actual writing. The weather's supposed to be lovely today and tomorrow - 48ºF might not sound like much, but after the very low negatives of last week, this is a much-deserved heat wave! (Aside: we also got a fourth sprout in our office strawberry plant!) There are almost no more visual reminders of the blizzard, and even though the grass is soggy no matter where you go, at least it's a little green and not entirely white and shades of dirty grey. The winter weather has never really affected me before, but it's hitting me pretty hard this year - I think the difference is because this year I actually go out and live a little. It's easy to not be affected one way or another by the weather when you never leave your couch and your view never changes.