What a week.
My university resumed classes yesterday, the only one in the city to do so. The campus was shoveled a little but there was an awful lot of climbing over giant mountains of snow to get from one place to another - it had me feeling pretty grateful for being faculty and not a student, for only having to go from my office to one other building.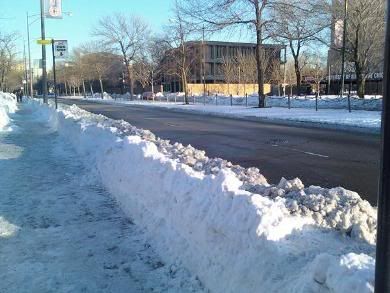 (This is a bus stop. You need to climb over the two foot pile to get on the bus.)
I had about half my students attend class, which is understandable but still frustrating - I presented new information that most of the kids who had showed up found a little tricky. Hopefully today more students come back for continued explanations and even more new information before their busy week next week of oral presentations and another exam on Friday - it's tough, but unfortunately, the show must go on.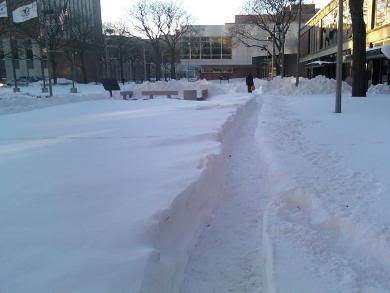 (A path about a foot and a half wide to get from the "sidewalk" to the gym.)
Because of the storm, I missed two days at the gym, but I was right back last night for my Thursday run and weight training. It felt really good to move again after spending most of Wednesday curled up on the couch grading compositions.
This morning, I weighed in at 242 - a one pound loss for the week. I'm feeling neutral about it - I saw 244 almost all week and it caused an unnecessary amount of stress. I did a lot of research on how to work through plateaus on Wednesday and Thursday, and when I sat back and
really
thought about how I've been doing lately, a small loss makes sense. I'm staying active - very active - but my food hasn't been very balanced. Even though my calories have been within my goal range, I have been eating more carbs than I usually do, while somewhat neglecting protein. (I blame the food processor - but darn, that homemade hummus is so good!) So my goal for this next week is to continue to mix things up.
How was your week?