In spite of a few really terrible guys, I'd venture to say that I've been really, really lucky with the men I have known in my life.
It's easy enough to look back at
Sam
,
Scott
, and
Steve
and say that they were all jerks with no redeeming qualities. While I suppose the argument could be made for Scott, there were certainly good things about Sam and Steve - namely, there were the lessons I learned and the things that enriched me as a person even though the relationships didn't work out. Sam was really creative, and he taught me about the Magnetic Fields, old British science-fiction spy television shows, and the importance of integrity and honesty in art. Steve was exceptionally well-read, and he shared with me his interests in Belle & Sebastian, the Tragically Hip, and philosophy. I'd say that from both of them I figured out the importance of not entering into a relationship with an agenda.
While these three were my most painful experiences with men, they are, of course, not the only three men who have ever had important roles in my life.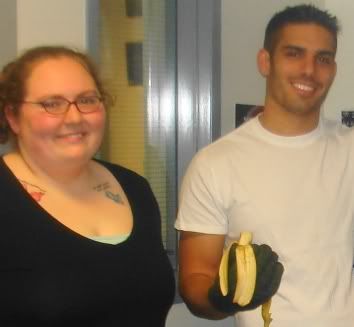 There have been quite a few others with whom I have had really fascinating and meaningful relationships, and though they were not romantic ones, I definitely gained wisdom, life experience, and new interests.
Today, I'd like to tell you about Richard, a co-worker from college. He went by Rich, but I always called him Richard for some reason - or "kid," even though he was a good two or three years older than me. He was studying computer technology, but he wasn't your average ITS guy. He was what some would consider to be very attractive, with lots of muscles, a great smile, and a personality like no one I'd ever met. He was super macho and tended to offend most people within minutes of meeting them - nothing profoundly disturbing, he was just very much a 22-year-old guy.
If for nothing else, I will always remember Rich for being the one who took care of me when my grandmother passed away. My sisters called me early in the morning to let me know what had happened, and when I called my friends, no one picked up their phones. I called Rich, blurted out what had happened, and he said "I'll be right there." He bolted upstairs and was in my room not even thirty seconds later. I was completely devastated, a total mess ... and he laid down in my bed with me, held me close, and let me cry all over him. That I believe to be one of the signs of true, honest friendship - the kid still liked me with my nose all runny and his shoulder covered in my tears.
Or I'll remember him for my twentieth birthday, when he convinced his ITS co-workers to lend him a movie projector. He hung up a sheet in our basement and we watched "Casablanca" - totally dreamy and wonderful, right? He even bought movie theater snacks and Coca-Cola in glass bottles to make it a classic experience. I couldn't have loved him more.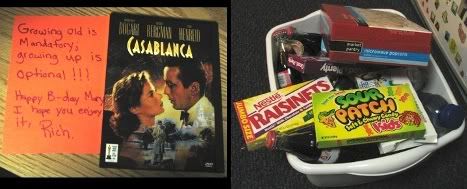 Unfortunately, my strongest memories of Richard are related to the lessons I learned from knowing him: lessons about what it means to be a good friend, as well as not judging people based on their appearances. The girl I was at that time was a darker version of me, an immature one that I don't necessarily regret being (I had to be her to learn the related lessons), but that I regret hurt other people in her learning process. Richard was one such casualty.
At first, I could hardly stand Rich - our personalities contrasted remarkably - but after a few late nights of duty together where we got to talking, it turned out that this crass, rude kid was actually sort of interesting and - get this - emotional. No one could believe it when I told them. My friends who worked in other buildings were in complete shock that the guy who could barely get through a sentence without saying something inappropriate would pour his heart out to me. But it was true, and it was wonderful. I had mentioned in passing how much I loved handwritten letters, and a few days later, there was a note slipped under my door.
The letter was incredible, a totally honest outpouring of his soul. The content meandered from his love life, to our friendship, to his family,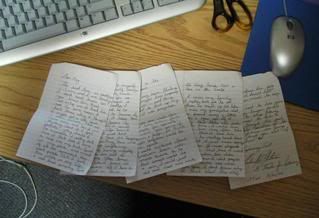 and so much of it completely threw me for a loop.
"Why should I be so miserable, I really don't have it that bad. I have a roof over my head, food on my plate, and most of all I'm surrounded by good people. Still I have this hole in my life, a void that simply can't be filled. I tell myself, if I keep myself busy I won't hurt as much. It only works for so long. Every night it creeps back. Honestly I don't know what to do. Could this all be because of a girl, or is it deeper than that? Is it because of school, or am I scared to live a life how I want to? I just don't know. Even now, I'm laying in bed writing this and I can't stop complaining. I'm sick of hearing myself. Sometimes I'm sick of being me. Other times I feel like I know all the answers. All I have to do is act on them, but that is the hardest part."
I was dumbfounded. Rich was a popular kind of guy! He was incredibly hot! Yet here he was, feeling the same kind of things I felt. I wasn't sure what to make of it. At the time, I was sort of blinded by immaturity. I didn't pay complete attention to what he wrote about himself because I was so distracted by the fact that he was writing to me about another girl.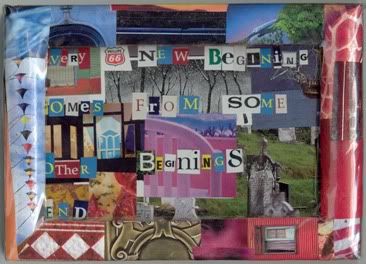 I didn't think he could honestly feel this way about himself, and if he did, he had no reason to - because again, he was popular, and incredibly hot. If this one didn't work out, there were literally millions of others who'd gladly take her place.
I just didn't understand. If he could have these heartfelt chats with me, if he could make me art and write me letters, then what was keeping him from wanting to be my boyfriend? It was my body, it had to be. And I started to hate him for what I assumed were his thoughts. Maybe he just didn't want to ruin a great friendship. But I was too selfish to see anything besides the focus on my physical self. Something I need more than anything is to dismantle my very selfish view of the world. It's a defense mechanism I picked up while becoming a super obese person, another way of protecting myself by alienating myself. No one knows the pain I feel, no one understands what it's like to suffer the way I do. It all relates back to my warped image of perfect body, perfect life - I have heartaches because I'm 300+ pounds and that is what I deserve for mistreating my body as such, but you with the muscly arms and rugged good looks, what you're feeling isn't as strong or isn't as important, because how could you possibly understand?
What a horrible friend I was to this kid. I listened, but never wholly. I was incredibly selfish and immature about the whole relationship
- his friendship was honest and sincere, but it wasn't enough for me. Some time after the film screening for my birthday, I started getting colder towards him, and when I moved to Chicago, I was livid that he was invited to my going away dinner. Just seeing him caused so much anger - "just friends" wasn't enough, it had to be romantic or nothing.
Now, several years later, my heart is aching as I write this. I can't believe I was such a terrible person, especially to someone who loved me in such an incredible way. I never want to hurt anyone again the way I hurt Richard. I need to sit down and write the kid a letter. I want to apologize, and ask sincerely how he is doing, and tell him how much it meant to me that he was there for me when my Nana died ... and give him a copy of this letter, in hopes that he'll see how he's grown as a person in the last four years or so. I hope he's well, I honestly and sincerely do. I just wish I could have been mature enough to tell him that years ago.