Yesterday was incredibly productive. I ran errands all day, trying to restock the house because I've been too busy to shop. Usually grocery shopping is just fresh fruit and vegetables since I keep my pantry and freezer pretty well stocked, but every few weeks I need to replenish my supplies: more meat to freeze, more yogurts for breakfast, more Lean Cuisines for lunches, and odds and ends like spices. So I went to a few different stores, trying to get my kitchen in working order. I also ended up making not one, but
three
new recipes, all of which I would call successes. So, great day all around!
I woke up early and decided to make whole wheat spinach pancakes for breakfast. I saw them a little while ago on
A Merry Life
and was totally fascinated. I did my usual improvising, using frozen spinach instead of fresh and not combining it all in a blender or food processor (I wanted more texture to them). And oh, were they delicious!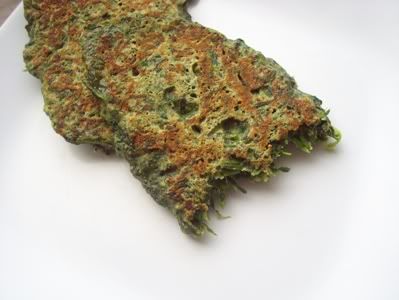 I ate them with some syrup, which was how Mary had hers, and it worked surprisingly well. Next time I make them, though, I'll probably try some sort of savory dip. I'll have to think about it. But there will definitely be a next time!
As promised, I looked through some of my mountains of cookbooks to find a good recipe for this week, and I ended up picking out a few in Helen Gurley Brown's "Single Girl's Cookbook" that I want to try. I chose chicken cacciatore since I had most of the ingredients, and while it came out well, it reminded me an awful lot of
sausage and peppers
. Next week, I want to try something totally different - diversify a bit, you know?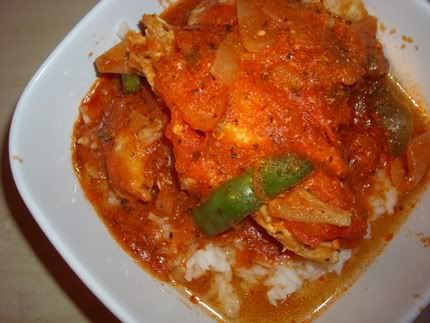 1/4 cup olive oil
1 chicken (3 pounds), cut into serving pieces
2 medium onions, sliced
2 garlic cloves, minced
3 tomatoes, sliced
2 green peppers, cut into strips
1 bay leaf
1 teaspoon salt
1/4 teaspoon coarsely ground black pepper
1/2 teaspoon celery seeds
1 teaspoon dried basil
1/2 teaspoon dried orégano (her accent, not mine. Is that right?!)
1 can (8 ounces) tomato sauce
1/2 cup dry white wine
Heat oil in a heavy skillet and brown chicken pieces on all sides until golden, about 15 minutes. Remove chicken and pile on paper napkins or paper towels. In the oil remaining in the pan, cook onions and garlic until onions are clear and limp but not brown, about 5 minutes. Return chicken to the skillet; add tomato slices, pepper strips, and bay leaf. (You know by now that to prepare a pepper you remove seeds and white ribs, then slice it.) Mix all other ingredients except wine together in a small bowl and pour over chicken. Cover pot tightly and simmer over low heat for 45 minutes, until chicken is almost tender. Uncover the skillet and pour in the wine; stir it into the sauce. Let the mixture simmer gently, uncovered, for another 20 minutes.
Yield: 6 servings; each serving has approximately 564 calories, 26 g fat, 202 mg cholesterol, 3.3 g fiber, and 68 g protein
(That's just the chicken, veggies, and sauce - serve it over rice and you're looking at even more calories. So, it's a "sometimes" meal. But it was good to try! The portions are pretty big, though, so you could totally stretch it to 8 or even 10 servings.)
I totally love the aside about the pepper. For my version, I didn't use a whole chicken, just boneless skinless breasts that I cut up into smaller pieces. I also omitted the wine step entirely because I didn't have wine in the house and buying a bottle to use a half cup seemed wasteful. I consulted with my mom who said it wasn't necessary since it was part of a sauce, so you can substitute white wine vinegar, chicken broth, or water (I doubled the tomato sauce).
This recipe was part of the "Foreign Food is Fun" section, and paired it with an antipasto appetiser and served the chicken over parsley rice (the recipe was simply rice with parsley stirred in). I made plain rice and it was pretty darn good!
While that simmered, I made low-fat double chocolate chip muffins from a recipe posted earlier this week by Ellen at
Fat Girl Wearing Thin
. I stuck to her original recipe with the exception of using eggs instead of egg substitute and skim milk instead of almond milk, and I added 2 teaspoons each of ground ginger and cinnamon. I make an unbelievably delicious ginger and cinnamon chocolate cake that is completely off-limits these days, so I wanted to see how the spices would work with these muffins for a guilt-free replacement.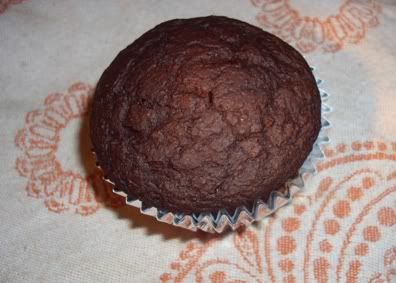 Oh boy, did it work! Delicious spicy chocolate-ness. Ellen said to let them sit overnight, and she was definitely right - I had one for dessert that was still warm from the oven, and it was good, but the one I am eating right now for breakfast this morning is even better. I opted not to dust them with confectioners sugar, only because nine of them were put in sandwich bags and frozen for days when I'm wanting a chocolatey treat.