My picture for the week: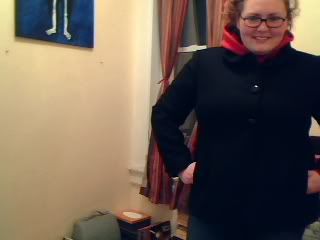 My sister bought this coat for herself but it didn't fit her properly, so when I was in Connecticut, I tried it on and adopted it right away. I think it would be safe to say that I am in love with this coat. I've never had "cute" clothes - clothes for me have always been functional; as long as something fit, I bought it, and I'd get it in five different colors to keep me good for a while. This coat feels like success to me, and I love how happy I feel just wearing it!
What have you done this past week to help you achieve your goals?
Lots, actually! (1) As of Friday's weigh-in, I'm nine pounds away from my 100 pound weight loss! (2) I've been running, not as much as I should have, but between coming back from Connecticut and forgetting that the gym has winter hours, I've been thrown off a bit. Spring hours resumed yesterday, so I'll be back on track this morning! (5) I tried a new fruit! Persimmon - loved it. (6) I went to the Art Institute on Thursday night - a lovely retreat from the cold! My favorite is the Impressionist section. (9) I did a mud masque and just relaxed the other day - it was so dreamy. I've been pretty busy with trying to get back on schedule lately, so it was nice to just sit and enjoy my own company for 20 minutes.
Are any of your goals repeat offenders (i.e., have you made them before and not succeeded)? If so, what do you intend on doing this time to ensure you achieve them?
Though it seems like the easiest, I think the hardest one for me will be doing something every week to make me feel gorgeous. I tend to get very wrapped up in my work and fixate on one thing at a time, so to have to put aside a little time every week to do something just for myself? Tricky!
Do you have a support system in place to help you achieve your goals?
For some I do - like training for the 8k. I'm running the race with a friend of mine from work, so we have been going to the gym together.
Are you a planner when it comes to meeting your goals, or do you tend to "wing it" and hope for the best?
Planner - always, not just with challenges. I need to have a plan.
Who knows about your blog? Are you on blogger lockdown or do the "real" people in your life know about your blog/read your blog?
Right now, none of my friends or family have the address, though a few know that I keep a blog. One of the things I am weighing with my decision to possibly move off of Blogger and onto my own site is the idea of building bigger readership, and that might include my "inner circle." I'm really torn over the idea, to tell the truth - if I wrote strictly about what I eat and how much I exercise, that wouldn't be too big of a deal, but I write a lot about the emotional struggles I am experiencing with weight loss. I pride myself on how honest and open I am here, and having friends and family reading might compromise my openness.