My picture for the week: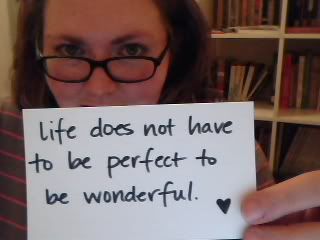 This is my mantra for this coming week, and I'm going to try my best to embrace it entirely!
What have you done this past week to help you achieve your goals?
Another busy week! (1) T-5 pounds until my 100-pound loss! It's getting real. (2) I have been back running, but I had not done a "long" run since the 5k on 1/1. This week I did two - a 3.33 and a 3.1! (3) Looked for academic job postings - right now is when they start popping up like crazy for Fall 2011, but there's nothing yet. (4) My first week back in the classroom was smooth sailing - lots of notes, lots of interesting examples, and even a couple games! So far, so good. (5) I finished one of my goals - #99, the time capsule, which I probably should have done way back in November, but at least I had some more interesting things to include this time! I also bought a bunch of new fruits to try, though so far I have only had the quince ... hated it. Very weird texture. (9) To pamper myself, I did a foot soak with lemon verbena bath salts. So heavenly!
Do you find that your motivation/mood changes in the winter? If so, what do you do to help/avoid it?
I think my mood does a little, but not my motivation. I live in Chicago, so I still have to do things like walk to the grocery store. if I let the snow get to me, I would never get anything done! Sometimes the shades of gray get a little depressing though - that's when I buy myself some flowers and remember that spring will be here sooner than I think!
Do you have any advice for your fellow challengers on staying on task?
Make lists! I absolutely swear by listmaking. There is little more satisfying than being able to cross a completed task off a list. One of my favorite lists is this one, which helps you prioritize things you need to do: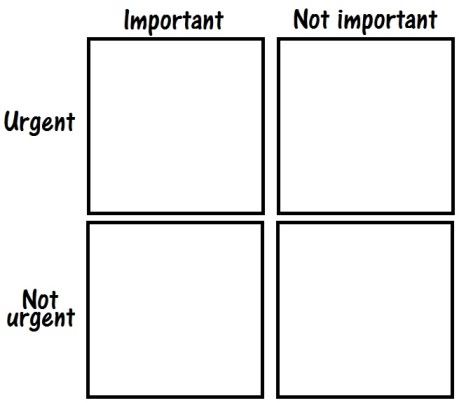 You fill each quadrant with things you need to do based on if they are important and urgent, important and not urgent, not important and urgent, and not important and not urgent. Important and urgent might be cooking dinner or paying a bill; not important and urgent is things like non-task related phone calls. Or so I believe - the best part of this list is that you get to choose based on your task and your own priorities.
What day(s) of the week/month do you find it difficult to stay on task/motivated?
In the beginning, I had trouble staying on task on the weekends - at work during the week, I have a very structured schedule. But weekends, I was left to my own devices. I decided to make weekends work for me - I make sure I hit the gym, and I do errands on Saturday and housework on Sunday. It doesn't take all day, so I can still go out and do things, but having a plan gives me a bit more structure and helps me stay focused.
If you were going on a road trip (longer than a day) who would you take with you? Where would you go?
My best friend Jill, no doubt about it. We both worked on-campus at our university in summer 2006,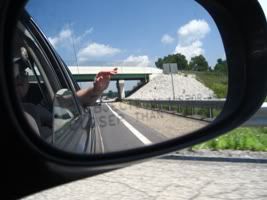 so we spent a ton of time together, and we decided that we didn't want to just sit around for three months. So, we became The People Who Do Things - not very creative, but our intentions were good. We took day trips around Connecticut and to Boston and Philadelphia, and the next summer we even came out to Chicago for a week! Though not quite a "road" trip, we went to Paris together in March 2008, and I'd love to go back to France with her - especially since I think my reward for reaching my long-term weight loss goal might have to involve a trip to the south of France to ride bikes through the lavender fields of Provence.