My picture for the week: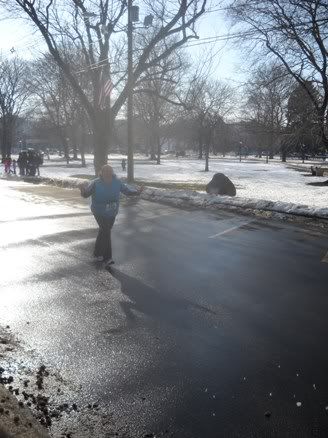 About to finish my first 5k - I know I just posted this yesterday, but I just love it so much!
What are your ten goals for the WWW challenge?
Why did you choose them?
I
already posted about this
a few weeks ago, but in short, here's my list:
1. Achieve my 100 pound weight loss.
2. Train for the Bank of America Shamrock Shuffle Chicago 8k on 4/10/11.
3. Begin looking for jobs (try to apply for at least one).
4. Be an amazing teacher.
5. Complete two of my 101-in-1001 goals.
6. Visit three museums on their Free Days.
7. Spend 1/4 of my tax return on new clothes.
8. Make art.
9. Do something every week to make me feel gorgeous.
10. Go to the opera.
Are you making a New Year's Resolution beyond the WWW challenge?
No traditional resolutions, but plenty of things on my to-do list. I have a lot of ideas for 2011. My WWW goals will help me get through the first part of the year; when I get to the end, I'll make a new plan.
What does this challenge mean to you?
I love challenges - I find that they really help keep me focused. I tend to do better with goals when they're planned for smaller, more manageable periods of time.
What did you do when the clock struck midnight on New Year's Eve?
I was watching the Family Guy version of Star Wars IV with my brother and sister. Nerdy, yes. But delightful.