My picture for the week: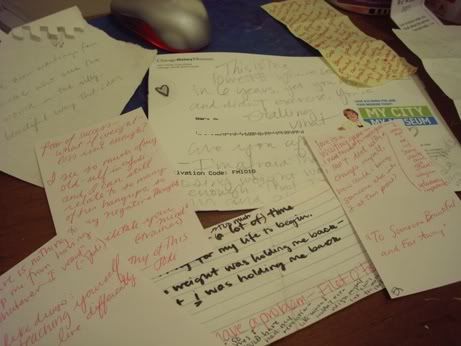 I cleaned out my purse the other day, and found all these old receipts, index cards, and scraps of paper with thoughts scribbled on them: whenever I get ideas for things to write about on my blog, I take notes, then just toss them into my bag. Some of these I've used, some have yet to appear. I think this offers an interesting insight into the way my brain works...
What have you done this past week to help you achieve your goals?
(1) I lost four pounds last week, bringing my total loss to 99 - just one more pound! I think I can, I think I can...
(2) I printed out my training schedule and have been sticking to it - long runs on Sundays, shorter runs on Tuesdays, and short runs on Thursdays. Yesterday I did 3.25 with no problem. [Also, I totally love the fact that two mile runs are "short runs" now.]
(3) Looked for more teaching jobs but nothing yet. My goal for this week is to polish my CV and get it ready for sending out. I'm also looking into a classroom technology specialization certificate that my university offers - just a little something else to help me stand out!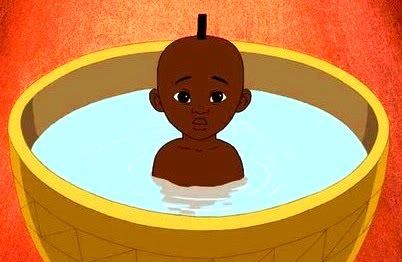 (4) Week two of teaching went well - half the week we spent watching our first film, an absolutely adorable animated Belgian/Senegalese coming-of-age film called "Kirikou et la sorcière" ("Kirikou and the Sorceress"). They've responded really well so far, and I'm pleased. We'll finish it tomorrow and I can't wait to see what the discussions are like!
(5) Tried pummelo - delicious! Like a less intense grapefruit - I loved it. I also tried a Chinese Yali pear - yes, I have had pears before, but not this kind, so I'm counting it. Also quite good, and not too grainy, which I sometimes find pears to be.
(7) I filed my taxes and sent them in earlier this week - one step closer to my mini-shopping spree!
(9) This week's make-me-feel-gorgeous activity was painting my nails - clear polish, because I'm not a terribly fancy lady, but still, the act of taking ten minutes to focus on myself felt really nice.
How are you feeling about the goals you set for yourself? Overwhelmed? Too easy? Just right?
I'm feeling pretty confident in my goals. I set reasonable ones, I think, and I'm trying to spread out the bigger ones so it doesn't get too overwhelming.
Do you prefer to exercise inside or outside?
Right now, I like exercising inside because of all the machines at the gym, but this summer, I'm going to try and branch out. I can run or ride a bike along lakeshore paths, and the big park downtown does early morning yoga and things like that for free, and so that's definitely something I'd like to try!
Are you a self-starter or do you need a little push?
I am the kind of person who cannot be told to do something, because I will dig my heels in and get stubborn, even if I know it's for the better. Luckily, though, I'm usually on top of things, so it rarely comes down to the point where someone has to tell me to do something.
Why did you decide to start a blog?
I am a storyteller by nature - it's a family trait that I love. I have had some really interesting life experiences that have produced some interesting stories, and I've been told innumerable times that with all the ridiculous things I have seen and done, I need to write a book. I have always loved writing, but I'm not sure about all that. What I do know is that in terms of my weight loss, I wanted to find like-minded people who knew what I was going through and who could possibly offer advice, so a blog seemed the best way to go. Accountability was also something I was looking for, since I live alone and have always found it difficult to feel supported by family and friends.