My picture for the week: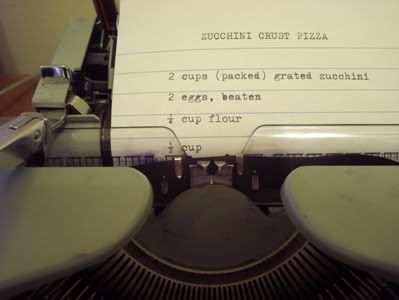 My best friend Jill is living on her own for the first time, and we have been talking a lot lately about getting healthy. She wants to cook but doesn't know too many healthy recipes, and she has a few dietary restrictions (meaning, she'll eat meat, she just won't touch it), so I have been putting together some recipes for her. I've been typing them on my lovely seafoam green manual typewriter (her name is Helen Scott) and it makes me feel like Julia Child.
What have you done this past week to help you achieve your goals?
(1) I did it! I lost 3 pounds this week, bringing my total loss so far to
102 pounds
.
(2) Yesterday's long run was 3.5 miles - it wasn't hard or painful, but I didn't do my best with time. My treadmill run on Thursday was awesome (2 miles in 24:00), but yesterday's track run averaged a 14:26 pace, which is not great - I'm usually faster on the track than on the treadmill. My first 5k pace was 12:19, so I gave 65:00 as my expected finish time when I signed up for the 8k, which averages 13 minutes per mile. I'm not extremely concerned - I usually get between 12 and 13 minutes per mile, but I was a little distracted this time. And in any case, I still have ten weeks before the race. Everything will work out.
(3) Still looking for jobs, still nothing. Considering different options like going back to school for a teaching certificate or another Masters (in Education) - these decisions need to be made pretty quickly, so that's on my to-do list for this week.
(4) Teaching has gone well! My students turned in composition rough drafts and took their first exam - which will equal about 25 hours of solid grading for me. Hopefully they did well, which would make grading much faster!
(5) I sent my first postcard via
Postcrossing
! Hopefully I make the day of some lady in the Netherlands.
(9) This week I bought some new running pants - capris from Old Navy made of wicking material. This might not seem like a make-me-feel-gorgeous thing, but it totally is - I am completely in love with my legs these days, and just wearing these pants makes me feel amazing.
January is coming to an end! How do you think you did in the month of January? Review time!
I think I did alright - I accomplished some great things, but there's always room for improvement. Especially now that I'm working on my second hundred pound loss, I have to reevaluate my plan and my habits a little.
Do you feel like your motivation is tapering off now that a month has passed, or are you just as motivated as the beginning of the challenge?
Totally motivated still! This is going to be my year, and it's just getting started!
Who/what inspires you to keep going?
Pictures of who I used to be, feelings of victory and success as the person I currently am, and thoughts and dreams about who I am becoming.
What is the first thing you think of/do in the morning?
Hit the snooze button about ten times, then look out the window. It's a habit from when I was a kid - checking the weather, and always hoping for a snow day. I live in Chicago now, so there's no such thing as a snow day (which is alright by me, because I love going to work every single day), but still, it's part of my routine.