I'm not sure if I've mentioned this before, but I am a bit of a hoarder when it comes to books. All I really want in terms of material things in life is a library just like in "Beauty and the Beast," and since I have a second bedroom in my apartment, that is currently my home office/library. I love going to thrift stores and buying the books I feel should be in a home library - classic literature, odds and ends, and more old cookbooks than I know what to do with. I'm pretty obsessed with stuff from the 1960s and 70s, especially since so much of it is pretty bizarre. Cases in point: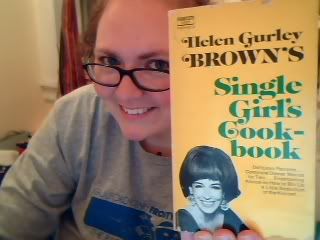 Completely brilliant advice from the woman behind Cosmo as we know it. Recipes for how to use the pieces of leftover steak you bring home from your dinner date, and an entire chapter called "What a friend we have in cheeses." Just brilliant.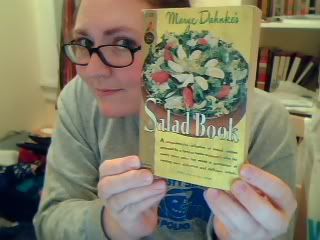 I was expecting different leafy greens and maybe some tuna and chicken salads. Alas - so much Jello, so little time.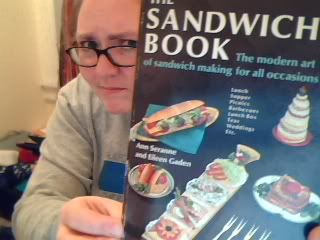 The recipes are, surprisingly, not the strangest part of this one - there's a whole section on how to prepare fancy party sandwiches, and the presentation gets extremely inventive. There may be clowns and lollipops involved.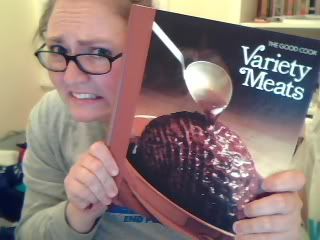 Because why limit yourself to steaks and chops? If anyone needs a recipe for brain fritters or pig's feet in aspic, I'm your go-to girl.
One time, my sister Katie and I went shopping and she told me I was forbidden from getting any books, and I returned with a 12-volume encyclopedia of cookery. I'm absolutely incorrigible. But really, I mean, how could a person *not* buy these things? It's just all so fascinating! Am I right?!
While on the subject of meat, though, I'll add that I'm not a huge fan of red meat, and I very rarely eat pork. (I did a report on pigs in tenth grade biology. I will not go further with this story.) When I do eat meat, it's either poultry or fish, and while there are a lot of delicious options there, sometimes, you just need a break. This past week was like that - so I went in search of some new vegetarian recipes. I'm going to make a goal of trying to use my awkward and fascinating cookbooks more, because my default for finding new recipes is either Google or word-of-mouth from bloggers. For example, I've heard great things about
Mama Pea
's blog, and they're all totally well-deserved - she's a great source for vegetarian and vegan recipes. The only problem is that a lot of her stuff feeds families, and if I am making bigger quantities, it needs to be easily freezable.
So for this week, I have a great recipe for vegetarian chili that I found on
VegWeb
and adapted a little, but starting next week, I am going to try using some of my "real" cookbooks. It should be interesting, if nothing else!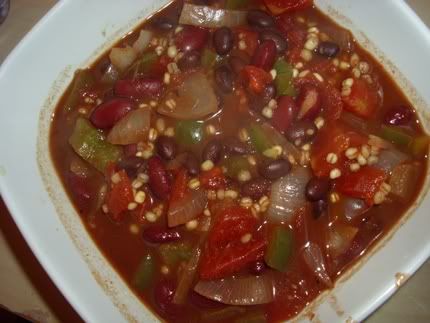 It was very hearty and delicious, and had a surprising ingredient: chocolate. Well, unsweetened cocoa powder. But still! I was unsure about it, but it gave the chili a really interesting edge. I loved it, and froze quite a few containers of it for the next few weeks when work starts to get busy and I don't quite feel like cooking.
3 tablespoons olive oil
3 medium onions, chopped
1 tablespoon chili powder
1 tablespoon ground cumin
1/4 teaspoon cayenne pepper
2 medium peppers, chopped (I used green)
3 garlic cloves, chopped
3 tablespoons unsweetened cocoa powder
1 can (28 ounces) diced tomatoes, undrained
1 cup water
1 can (15 ounce) red kidney beans, rinsed and drained
1 can (15 ounce) black beans, rinsed and drained
1/2 cup barley
In a large saucepan, sauté the onions and spices in oil. Add peppers and garlic and cook for 1 minute. Add cocoa, tomatoes, and water; bring to a boil. Add kidney beans, black beans, and barley. Reduce heat to low and simmer, uncovered, for 15 minutes. or until barley is cooked. Add salt and pepper, to taste.
Yield: 8 servings; each serving has approximately 160 calories, 7.5 g fat, 0 mg cholesterol, 21.2 g fiber, and 27 g protein
The original recipe called for bulgur, but some original commenters said barley was a good substitution - since I had barley and not bulgur, I went for it. I roughly chopped everything since I like chunky chili, but you can go smaller if you want - just be sure not to overcook it!