When I first started this blog back in August, I watched
a lot of documentaries
to get ideas and inspiration. This weekend, as I watched the first episode of the A&E show "Heavy," it got me thinking, as always.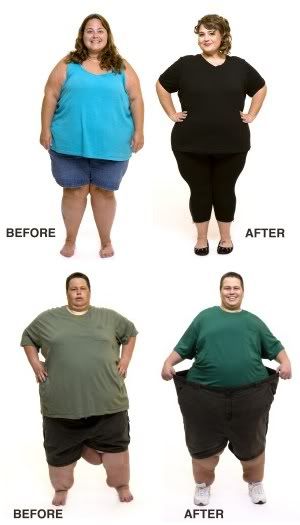 I've read a lot of blog posts and Twitter updates about the show, including many comparisons to "The Biggest Loser," which I need to admit that I've only seen once, but even that was once too much for me. This new show has been touted as being similar to "The Biggest Loser," only without the competition aspect, and that intrigued me since that's precisely why I have no interest in "The Biggest Loser."
If you have not seen "Heavy," I would definitely recommend checking it out (you can stream the episode from A&E's website). Something that I really liked was that Tom and Jodi spent the first month in a controlled environment, but were then on their own (though, if they could not succeed yet on their own, they would be brought back to the ranch for more assistance). Weight loss is a giant math equation - every plan boils down to burning more calories than you take in - so no matter what method you choose to follow lose weight, the most important thing is that it needs to be sustainable for you and your own personal situation. As wonderful as it sounds to be put in a weight loss utopia, it's not something you can likely replicate in the "real world."
Watching these two people in the beginning stages of weight loss really resonated with me. One of the most difficult places to be in this journey is the starting line. For me, the first few weeks were among the hardest because there were so many changes that needed to be made, and it often felt overwhelming - it's tough to adapt to new healthy habits after being inactive and eating so poorly for so long, no doubt about it. And despite knowing that it's in your best interest to stick with your program and do the right thing, it's still unbelievably hard to stay optimistic and give every day your best when you're facing 210 pounds to lose. For me, something that helped me stay focused what something that was said in one of the documentaries I watched back in August:
There was a study done in the 1950s of people who entered treatment programs for weight loss. The research showed that most of the people in the program quit; most of those who stayed did not lose weight; most of those who lost weight did not maintain losses. The narrator pointed this out and cited an updated study that shows that, over fifty years later, the statistics are not all that different. She called this the "grim shadow behind weight loss efforts" - if the odds are not in your favor, why bother putting in the effort to try? During a scene with the married couple and their therapist, the latter said that, at some point, it finally hits you that "it's not about how far it is across the stream, it's about how bad you want to be on the other side."
I saw so much of my old self in Jodi - and I can still relate to so many of her hangups, so many of her negative thoughts. For people with so much weight to lose, fear of failure is often a secondary thought to fear of success. I know I'm going to lose 210 pounds, but I don't know if I'm going to be happy and feel satisfied with my life. These are things I can't measure on the scale, and the lack of certainty can feel overwhelming. Obesity is comfortable, at least in a sense of being familiar, and the thought of changing your entire life is terrifying, especially when there is no specific result that you are guaranteed.
The journey of weight loss is so much more than simply losing the weight and living happily ever after - you have to change the way you eat and how active you are, but also the way you look and the way you interact with family, friends, and the world is completely different. The best we can do is try and tackle some of the emotional hurdles while also working on the physical ones.