My grandfather's funeral was last Wednesday. I was sad that I could not be there with my family, but my father insisted that I stay put.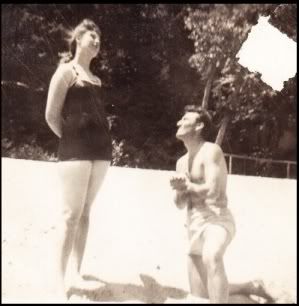 It hurt, but I think it was the right decision. Flying out for only one day and then having to get right back into teaching would have been extremely difficult for me ... as hard as this is, I need to grieve alone right now, and then pay my respects privately this summer when I am back east.
I think part of my father's concern was due in part to the fact that my grandmother's funeral had been very, very tough for me and affected me for weeks afterwards. My Nana's death was completely unexpected, and although my maternal grandmother had also unexpectedly passed only three months earlier, Grammy's memorial service had been very small and non-traditional. Nana's funeral was a big Roman Catholic service, which I had never really experienced before besides
my uncle John
, and due to the nature of John's death, he had been cremated - my Nana's funeral had an open casket.
I had never seen a dead body before, and I think that part of the service was just as hard as losing her to begin with. It was like nothing I could have even expected, and I walked away from my grandmother's service with a lot of thoughts and ideas about faith and love.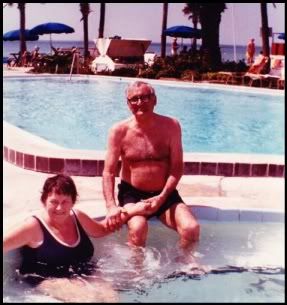 My grandmother was not in that casket. That was just her body, a shell that contained endless love and that held together for decades of life, through innumerable good times and even a few bad ones. It reminded me of a quote by Confucius that I read in the liner notes of some angsty punk CD when I was in high school and that has always stayed with me:
I saw some piglets suckling at their dead mother. After a short while they shuddered and went away. They sensed that she could no longer see them and that she wasn't like them any more. What they loved in their mother wasn't her body, but whatever it was that made her body live.
I've been thinking about the funeral experience a lot since Wednesday and how it relates to my goals for 2011. My focus in this phase of my weight loss is on dealing with some of the emotional side-effects of losing this much weight and, essentially, completely redefining myself. I'm doing terrific work right now to take care of the shell, but I need to make sure that I'm doing the best that I can to not put fully living my life on hold until I reach a specific numeric goal. I'm going to laugh and love and have amazing adventures and enjoy every single day, even if my body is not perfect now (or ever).
And with that, I give you this week's recipe: sausage and peppers. My Nana used to make this at least once a week, with big pieces of Italian pork sausage, soft sweet onions, and a few different colors of peppers - all cooked in butter. But I'm just a single lady who's trying her best, so I used turkey sausage, one green pepper, and olive oil. It was heavenly.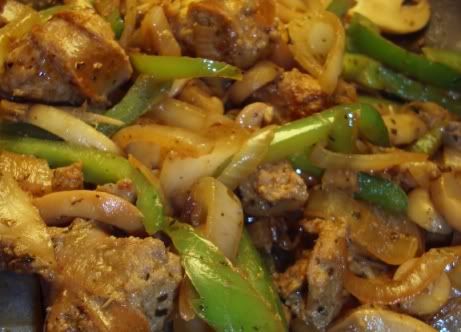 2 links hot Italian-style turkey sausage (I use Butterball brand)
1 medium green bell pepper, sliced
1/2 medium Vidalia onion, sliced
1 can (8 oz.) of mushrooms, drained
4 cloves roasted garlic*
2 tbsp. olive oil
2 tsp. oregano
Brown sausages in a skillet over medium heat, then remove them from the pan, slice them, and put them aside. In the same skillet, add olive oil and heat for a few seconds before adding onion. Cook onion 2-3 minutes, then add garlic and green pepper and stir to coat. Add oregano and continue to cook until peppers and onions are tender. Add mushrooms and sausage and incorporate well, then reduce heat to low and cover for 10-15 minutes or until sausage is heated through.
* If you would rather use fresh garlic, mince the cloves and cook them slightly in the olive oil before adding onion. I had roasted garlic around, so that's what I used.
Yield: 2 servings; each serving has approximately 327 calories, 22.3 g fat, 60 mg cholesterol, 3.6 g fiber, and 20.9 g protein
There are, of course, more calories if you eat it on a piece of Italian bread, which is really how it ought to be eaten. Personally, I could just eat a bowl of this sweet and spicy meat and veggie deliciousness - and that's exactly what I did with the second serving the next day. Wednesday night, though, I toasted up a roll under the broiler for a minute or so and then enjoyed a sausage and pepper grinder that would've made my Papa proud.