My flight landed at Midway Airport around 8pm on Monday night. I was home by 9:30, and in bed by 10. It had been a long couple of weeks, and after a few hours of traveling, I was just wiped out. The next morning, I stepped on the scale for my first glimpse of my numeric weight in weeks; before I left, I weighed in at 265. I was nervous, but feeling confident.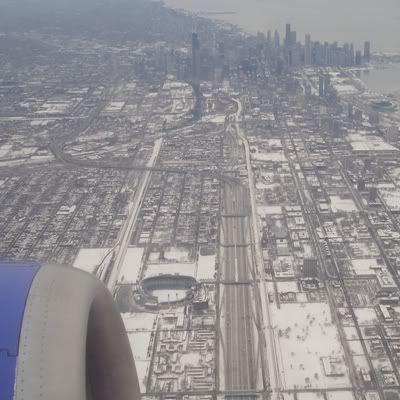 I did a good job in Connecticut - in terms of food and exercise, there were some good decisions, and there were days when one or both could have been better. But all things considered, I knew I would see a loss, even if it was a small one. I could feel it.
Lo and behold ...
260.
I'm unbelievably proud. I survived the holidays - but not only, the holidays
with my family
- and lost five pounds! Since coming home to Chicago, I've been back to eating well and I've been in the gym every day, so my official weigh in for today has me at 254. (It sounds like a lot of loss for only a few days, but I think some of it was retained water - I wasn't counting, but by a rough estimate, I'd say my sodium intake was about a billion times what it usually is. I'm very much a plain, no-sauces kind of lady, and my mom likes butter.)
My total loss is now 91 pounds, which is completely awesome, if I do say so myself! I'm pretty close to a few upcoming landmarks ... hitting 250, finally being "just" obese - and not "morbidly" so - at 247, and finally, marking 100 pounds total lost at 245. An awful lot to celebrate, I think! I'm trying to think of some great non-food rewards for myself - I've already talked about wanting a tattoo for my 100 pound loss, but also, I was thinking about possibly moving my blog to a self-hosted site. I'm still weighing the pros and cons, so we'll see.
It's been a week of introspection and compliling thoughts collected while away, but it has also been a week of springing back into action. At the gym, I've been back in the pool a couple of times, which I love in spite of the awful chapped lips it has given me. I ran on the treadmill a couple days ago and will be back today - admittedly, though, it's tough. I got used to road running really quickly, and that's just not something I can do in Chicago - too many stops and starts with traffic and street lights. Sure, I could go down to the lakeshore paths ... but that's more of a weekend/vacation kind of run, not something I could do most days - it just takes too long to get there. I don't mind the treadmill, I just need to readapt a bit.
Another thing I started at the gym this week was weights - I need to tighten and tone like you wouldn't believe. I've been going to the gym with my friend Lorelei, who has used weight machines before and therefore claimed that I could trust her with showing me what to do. Now I'm doing some research of my own, because my legs are
killing
me. No joke, I'm walking like a cowboy from a bad Western, ready to duel. Yikes.
NSV for the week: I got an Old Navy gift card from my dad for Christmas, which I spent on two nice shirts and a new pair of jeans ...
size 18
. The 20's were falling off me already, which is both awesome and awful. Awful, because I just bought them about a month ago. But I haven't worn size 18 jeans since 7th grade, so I'm feeling pretty good about that! This is the first time in twelve years that my jean size hasn't had a two in the tens place ... half my life so far!