This is probably not much of a surprise, but I'm not the kind of girl who goes crazy on New Years Eve. I think the last time I went out was my senior year of college, when a couple of my girlfriends and I went to one of the casinos here in Connecticut - we played penny slots, drank Midori Sours, laughed an awful lot, and hardly noticed when the clock changed. It's just that the changing of the calendar year has never really been too important to me, as my life has always seemed to revolve around an academic calendar. I tend to make resolutions on my birthday, or at the beginning of a new semester. But never on January 1.
This year, I mixed it up.
A few months ago, I started the Couch to 5k running program, and a few weeks into it, I found a 5k race near my hometown. I figured that signing up for it would be beneficial in a few different ways: not only would I have to finish C25k by that time, but I would have to continue to stay active and eat well while visiting my family in order to be able to complete the race. For the most part, I've done well. There are things that I ate that I shouldn't have, and there are days when I didn't exercise as much as I probably could have. My goal for coming home was weight maintenance, not weight loss - I just wanted to survive a trip home without gaining my usual 15-20 pounds. Physically I feel like I've done a fine job, but emotionally, there have been a lot of challenges.
Besides the physical component, the support of my family is incredibly important to me, and being able to have them there cheering me on would mean just as much as completing the race. Here's my kid brother and me outside the community center where I picked up my race number (#153):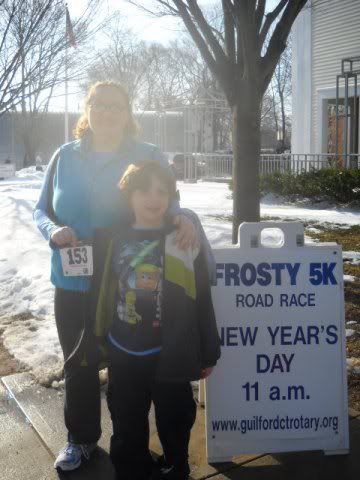 (Sorry for the glare - Mom took the pictures.)
We left the community center and walked down to the town hall where I lined up and my family secured a bench near the finish line. The race was really different than any of the races I've done in Chicago, for obvious reasons. There were about 700 runners and walkers here, whereas a small race in Chicago is still about 1500. The set-up was less fancy - in Chicago, we go pick our materials up a couple days before the race at a sporting goods store. Here, it was at the community center the morning of the race. Chicago races usually start around 8 or 9am, but this one started at 11am. And the Chicago races are along flat lakeshore paths, but this one was on the town streets, over a hill and down to the marina, down a hill and around the town fairgrounds, and back to the town green.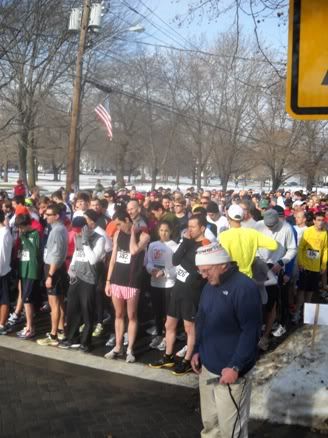 The race started a little after 11, and we took off towards Boston St., around the historic town green. I had created a pretty epic playlist to get me through my race - all the awesome motivating songs I've been training with, in a very specific order to start strong, stay consistent, and finish strong. Unfortunately, I lent my iPod to my sister the other day and she set it to shuffle, so the track listing I had painstakingly ordered was lost. Not fatal, but it threw me off a bit.
We were almost at the marina when we hit the one mile marker - and people were already coming up on the return side! I can't imagine being that fast just yet. For me, I was just so grateful to be running by my beloved Long Island Sound. I loved growing up on the shoreline, and I miss it so much when I am in Chicago.
Even though I had my music playing, my mind still wandered as I ran. Around the second mile marker, I wanted so badly to stop, and for no real reason. I wasn't in pain. I wasn't struggling. So why stop? It's sad, but no matter how hard I work, no matter what I accomplish, it seems that in the back of my mind, I still hear a little voice saying
You can't do this. You haven't been running as much as you should have. And you ate a cupcake yesterday! You're too fat still to succeed at this. What were you thinking?
The second when I crossed the starting line, I had already accomplished something wonderful - why isn't this enough?
Around two and a half miles, I was working up a small hill, and it felt like I was going unbelievably slow - and then it hit me. The moment when I realized that I would rather keep running at that pace than walk - even if finishing took me all day.
I can do this! I am doing it!
Ending negative self-talk is my top priority for 2011 - no excuses. The changing exterior is great, but the physical weight loss won't matter if I still hate the girl inside.
When I turned the corner to get back onto Boston St., a great song came on my iPod (Florence + the Machine, "Dog Days are Over"), and I got my second wind. I turned at the three mile marker and raced towards the finish line - my family standing right there in front of the Town Hall, waving and cheering me on.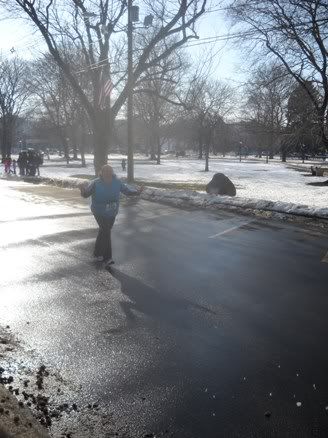 I dashed across the finish line, grabbed a bottle of water, and headed back towards my family - they were cheering and giving me huge hugs, and I just bawled my face off.
I did it.
I really did it! Me! Mary! The girl who never ran a mile in the first 24 years of her life was now kicking off 2011 by running 3.1 without stopping to walk. And in a personal best time, no less!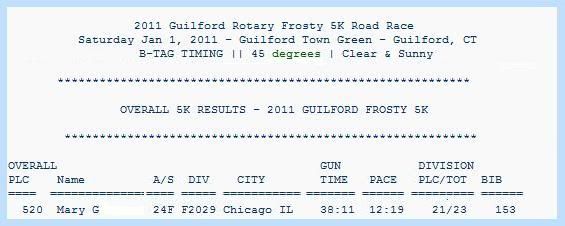 38:11! I'm so amazed. I made a 50-minute playlist. When I registered for the race, I estimated my finish time at 45:00. Even while I was racing, it felt like I was taking a really long time. So to see that? Unbelievable. I'm just so completely ... amazed.
You know, 2010 was an unbelievable year for me - in the sense that I'm still sort of unable to believe everything that happened. All of the future fears from last January are all old news now: I've passed my MA exams, I graduated, I got my dream job, and I lost an incredible amount of weight. And it's not just the number of pounds that I'm proud of - I've been eating better, I've become more active, I've found an incredible support system, and bit by bit, my self-confidence and self-esteem have started to improve. I'm still a work in progress, but it's wonderful to know that I'm capable of the things I set my mind to. The person I am right now is someone I am not sure I would have recognized if I met her a year ago, and that's both fantastic and scary.
I am so ready for everything 2011 has in store for me - and I hope this year is ready for all I am prepared to give it!