Getting back on track from being away for over two weeks has been easy, which I am pleased about; since coming back to Chicago, I have eaten quite well. For example, baked chicken nuggets and zucchini: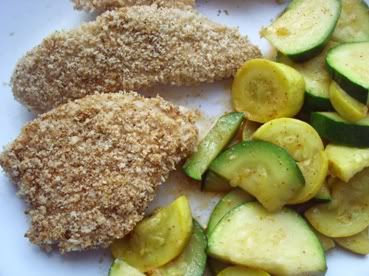 Or chicken curry with rice and asparagus: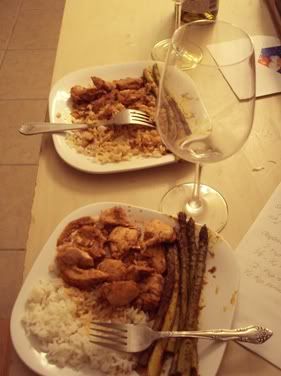 Yes, I eat chicken a lot. And yes, there are two plates set in that second picture. But that's a story for Tuesday. (The story is about the two plates, not about my eating lots of chicken. "I eat lots of chicken." End of story. Boring.)
I really liked trying one new recipe a week for DDGbD, so I am going to try to continue that, and I will post the recipes on Sundays.
I really love cooking, I always have. It's very therapeutic for me - I'm very much a person who enjoys order and rules, and cooking requires both. Plus, the artist in me loves taking raw materials and putting them together in such a way that something new and wonderful is created.
This week, I made lentil barley stew - after two weeks with my family, I definitely needed a break from heavy meals. This was perfect: very filling without the weight of meat (especially red meat, which my family eats comparatively often - I have it once a month at most, it just isn't my favorite. Chicken's for me!).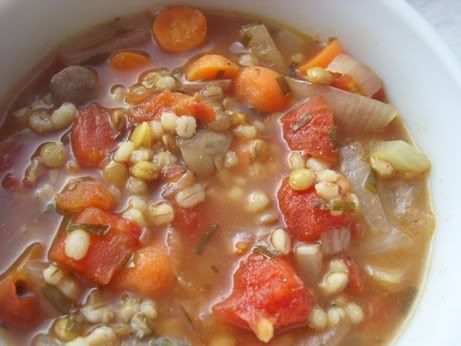 1 medium carrot, chopped
1 small onion, chopped
1 celery rib, chopped
1 garlic clove, minced
1 tsp. minced fresh gingerroot
2 tsp. olive oil
1/4 c. dried lentils, rinsed
1/4 c. medium pearl barley
1 can (10 oz.) diced tomatoes with mild green chilies
1 c. water
1 c. vegetable broth
1/4 tsp. ground cumin
1 tsp. reduced-sodium soy sauce
In a large saucepan, sauté the carrot, onion, celery, garlic, and ginger in oil until crisp-tender. Add lentils and barley; cook 3 minutes longer, stirring occasionally.

Stir in the tomatoes, water, broth, and cumin. Bring to a boil. Reduce heat; cover and simmer for 20 minutes, stirring occasionally. Add soy sauce; simmer 20-30 minutes longer or until lentils and barley are tender.

Yield: 3 cups; a 1.5 c. serving has 304 calories, 5 g fat, 0 cholesterol, 15 g fiber, and 11 g protein
I found the recipe in Cooking for Two, and adapted it a little: for the sake of sodium reduction, I did low sodium chicken broth and skipped the soy sauce entirely. (One serving of theirs has 1356 mg of sodium!) Didn't miss it at all. If skipping the soy sauce makes the ginger too much for you, just use less ginger. Or none! Problem solved.
Also, there are some green flecks in mine because the can of diced tomatoes that I had in the house had some spices in it. It ended up delicious still, though next time I will definitely be more mindful at the store - I bet the chilies would have been pretty interesting!