I was really moved by the comments on my post from yesterday - thank you everyone for sharing your experiences. Quite a few comments mentioned smoking, something else I would like to touch on. Both of my grandmothers died of problems directly related to being life-long smokers,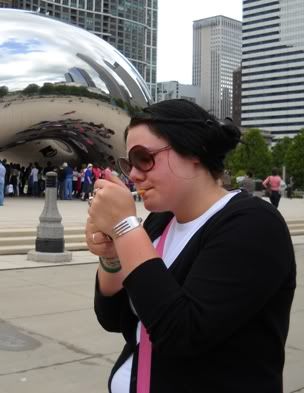 and so it always perplexed me why my sister Lisa would become one. Besides the fact that smoking is an expensive and dirty habit, I just can't understand how she could choose to be a smoker after having seen how they suffered - struggling to breathe, becoming dependent on machines. There's a great quote (by Maya Angelou, I believe) that says that when we know better, we ought to do better; with these two examples before us, how is she able to justify this habit to herself?
I've been quite vocal about my feelings to Lisa, because I love her very much, and therefore I am fearful that she'll end up the same as Grammy and Nana. They were both relatively young, and their conditions were avoidable. At the same time, though, I've been hypocritical. I could see what a life of poor eating and inactivity had done to my father, yet I still chose to adapt the same lifestyle. Binge eating is also an expensive habit - and a dirty one, although in a different way than cigarette smoke.
I can't speak for Lisa and her life choices - nor can I speak for my father and his decisions. I can only speak for myself, and in terms of my own weight loss journey, I'm finding that continuing to do the right thing every day is not nearly as difficult as it was choosing to do the right thing the first day. Don't get me wrong - it's very tough. But for me, getting started was the hardest part. Once I had my revelatory moment when I realized that I knew better, I decided to start doing better - but it was not an easy decision. Facing hundreds of pounds to lose is unbelievably overwhelming, and that made it suprisingly easy to justify my unhealthy habits.
Sara
received a great comment a few months ago that sums it up pretty perfectly:
Losing weight is hard.
Being fat is hard.
Choose your hard.
I wrote out on a Post-it to keep on my desk, and I'm thinking about sending it in a card to my father. I can't force him to eat better or try to get active, just like I can't make Lisa quit smoking. But maybe a simply-stated but effective comment like this might offer an interesting perspective that he hadn't considered before.