On October 18, 2006, exactly one week after the death of his mother, my dad was sitting in a doctor's office. He had been diagnosed with type II diabetes about ten years earlier, but because he had failed to properly take care of it, he was experiencing many side effects and related conditions. That day was a regularly scheduled check-up. The doctor was checking his heartbeat with a stethoscope when he stopped very suddenly, looked at my father, and asked "Do you not feel that?!" My dad was having a heart attack, and because of his diabetes-related neuropathy, he could not feel his body failing.
He was airlifted to the hospital where he spent several weeks recovering from his emergency quadruple bypass surgery and congestive heart failure. The recovery was especially difficult because of the effects of not taking his insulin, not losing weight or exercising, and continuing to eat poorly. In fact, he never fully recovered, and the neuropathy worsened in his hands and feet. He was forced to retire early from his job: he could not walk without a cane, and even with the cane he could only walk for a couple of minutes at a time before he became exhausted and needed to stop - also, his vision deteriorated, and he just couldn't make the half-hour drive safely.
A little over four years later, it's hard to remember what life was like before Dad became handicapped ... like how it was when Dad could go with us on family walks, or what it was like to go to the grocery store without having him follow in a motorized scooter. It's also hard to see the whole family seemingly unaffected by what has happened. Given the choice, I know everyone would choose to have Dad healthy and back to normal.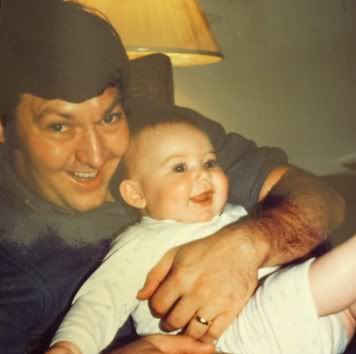 But at the same time, no one has tried to encourage a healthier lifestyle - it would not save him or make him as capable as he used to be, but it would help him feel a little better. In fact, we've all continued to eat poorly, remain sedentary, and gain weight - and I am guilty of this myself.
It took me nearly four years to realize that I was on a fast-track to the same exact situation as my father. I'm trying my absolute hardest to stay on the right path and hopefully avoid a similar situation. And so it really hurts to go back home and see my father free-falling into what he has accepted as his fate. For many people, being told what they ought to be doing is often a catalyst for their doing the exact opposite, and my father is no exception to this. It hurts, because this is not the same as being told to clean your room and refusing. This is huge. This is his life, and he's not willing to make a few changes in order to live longer. Changing habits is hard, but staying the same is easy - even though staying the same worsens his condition.
For the past few months, I've had a recurring nightmare: we sit down at our kitchen table for a meal, and then I start screaming at my father, telling him that he'll never meet his grandchildren. The meaning is obvious, and I'm very glad that they were nightmares and not scenes nestling in for later moments of déjà vu. At many points in my trip, I thought they would come to fruition, and I found myself very conflicted: I cannot scold or lecture - I am the child, not the parent - yet I cannot sit there and watch him eat the way he does without saying something. My father's eating habits are horrible - unhealthy for even an average person, but someone in his condition medically? It's killing him - and that kills me. His broken heart is breaking mine.