My grandfather passed away yesterday morning. My family is back east taking care of each other,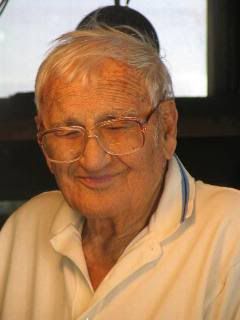 and I'm here, alone, doing the best to control my Italian crisis defense mechanisms (start cooking and stop when the grief is gone, or you run out of ingredients). I find myself crying substantially less than I did for my Nana - it's hard to grieve a situation where what happens is exactly what was desired by those involved.
My grandparents were married for nearly sixty years when my grandmother passed away, and since she died, my Papa became increasingly withdrawn. He lost all interest in his old hobbies, he all but shut out his eight living children and the twenty-one grandchildren, and he had all the pictures of Nana put away because they devastated him. It's been so easy to be mad and frustrated at the fact that he ceased caring about his remaining family, but to be honest, his was a grief that none of us could have entirely understood. Fifty-seven of my grandfather's ninety-seven years were spent with this woman. They had nine children, fifty-eight birthdays and Christmases, and nearly seventy-thousand meals together. At a certain point, their life together became longer than their lives apart had been -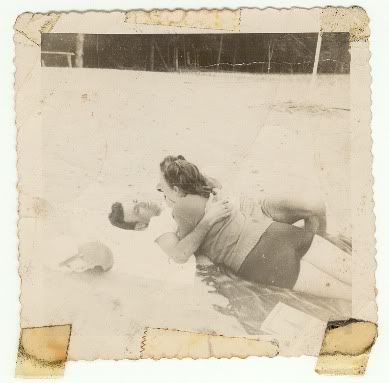 this is something absolutely unfathomable to me at twenty-four years old.
At a party once, my friends and I got to talking about the idea that some people have that there is something that our grandparents had right but that our generation has wrong when it comes to dating and marriage. I can't say that I subscribe to the belief in "the halcyon days." I'm sure they had problems just like we do, but for some reason, it's easier to sort of romanticize their era. Maybe because they didn't have websites where they peddled their faces and hoped for the best ... but still, there had to have been anxieties about finding someone to share their lives with, right? If I had to choose their strength, I'd say that maybe their generation was a bit more patient and understood waiting for what's perfect little better than we do.
Yesterday, thinking of love and loss and my Papa, I made a "lightened up" version of chicken parmegiana - baked, not fried.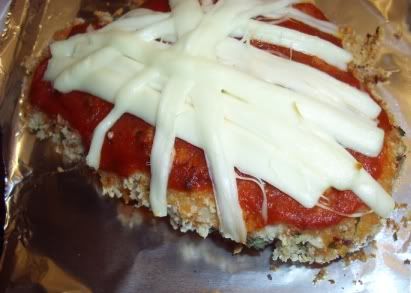 2 boneless skinless chicken breasts (about 4 oz. each)
1 cup panko breadcrumbs
1 egg white
1 tbsp. dried parsley
1 tsp. onion powder
2 tsp. red pepper flakes
1/2 cup tomato sauce
2 oz. mozzarella cheese
Preheat oven to 350º F. In a small bowl, mix breadcrumbs and spices. Dip chicken in egg white, then coat with the crumb mixture. Place on a baking sheet and bake for 8 minutes, then flip chicken and cook for 8-10 more minutes, or until cooked through (but not overcooked). Spoon tomato sauce over chicken and sprinkle with cheese. Put chicken back into the oven for 3-5 minutes or until cheese has melted.

Yield: 2 servings; each serving has approximately 415 calories, 10.5 g fat, 112 mg cholesterol, 2 g fiber, and 46 g protein
You can add more sauce to suit your tastes - I like things on the dry side, so I just did a little. Also, I still do not trust myself with having cheese in the house, so I bought two individual pieces of string cheese and topped each chicken breast with one that I tore apart. My off-the-boat-Italian grandfather probably wouldn't have enjoyed it, but I thought it was delicious, and it reminded me of how much I love my family.