Have I ever mentioned that I am a member of the Culinary Historians of Chicago? Well, I am!
Last year I decided I wanted to learn more about what I put in my body. I have always been interested in history ... and also, I wanted to find something to do on weekends that wasn't school related. Let me just say, it is absolutely amazing.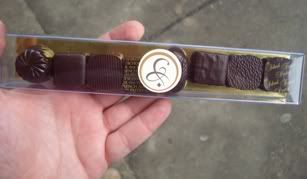 We have lectures about once or twice a month - sometimes just talks, other times there is food. For example, when someone who is presenting has a cookbook, a few of the people make some of his or her recipes and we all try them after the talk - like Gale Gand's brunch book. And after one talk about the origins of chocolate in France, we all got truffles to take home, handmade at the French Pastry School here in Chicago!
Last November we had a series of meetings all about beef,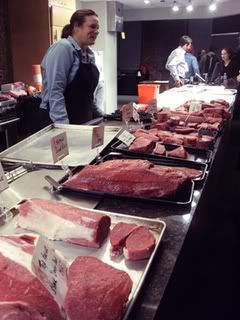 and a woman came in to do a full beef-cutting demonstration - she came in with all these big pieces of meat and with only a knife, she turned it all into roasts and steaks. It was fascinating! We got charts to learn how to best cook certain cuts, and while I'm not a devout beef eater, it's a good thing to keep on hand. A few times we had meetings at restaurants and after the talk we had a delicious meal - like when we met Chicago food critic and pizza expert Penny Pollack and got to try a few different pizzas at Spacca Napoli, or when curry expert Colleen Taylor Sen talked about the origins of curries in several different countries and we had a full Indian meal at Bhabi's Kitchen up north in the Little India neighborhood. Amazingly delicious, and even better tasting after having learned all about this unique mixture of spices!
At today's lecture, Colleen Taylor Sen will be back to talk about her new book, essentially a guide for how to order Indian food in a restaurant:
The Indian Subcontinent has one of the world's richest, most diverse culinary traditions, but ordering a meal can be a challenge. Diners who can comfortably navigate a Chinese or Thai menu may find themselves at sea when faced with an Indian menu. Some people are afraid the food will be mouth-searingly hot; others are unfamiliar with the names of the dishes. Restaurant owners complain that most of their customers limit themselves to three dishes: tandoori chicken, chicken tikka masala, and sag or palak paneer.

In her new book Pakoras, Paneer, Pappadums: A Guide to Indian Restaurant Menus, local Indian food expert Colleen Taylor Sen demystifies South Asian ingredients and traditional and regional dishes in order to enhance readers' enjoyment of one of the great world cuisines.

In her presentation, she'll discuss components of an authentic Indian meal, the eight categories of Indian and Pakistani restaurants—and their specialties, the story behind tandoori chicken and other popular dishes, how to order within different culinary traditions and balance the myriad tastes and flavors, how wine and other beverages pair with Indian dishes, and how Indian food can make you healthier.
I'm really looking forward to this.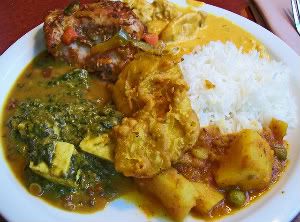 I have been trying new spices in the past year or so, and whereas I used to have totally taste, I now seek different spices and flavors. So I really enjoy Indian food, and I'd like to know some new things to try since I'm completely guilty of sticking mainly to samosas (vegetable-filled pastry), chicken or lamb tikka masala, palak paneer (spinach with paneer, a non-rennet cheese), and dal (lentils). It can be good or bad for you, depending on what you choose. It would be great to learn how to make some of the healthier options at home!