I lost one pound this week, making my current weight 265 and my total loss 80 pounds so far. Even NSVs can't save my spirits right now, and that's a shame, because there were several this week - like when a group of my students came for pre-finals tutoring and I admitted that I had lost 80 pounds this semester, and they applauded. Or another faculty member telling me that I was such a huge inspiration and that because of my saying that I was running, she decided to get back into running herself. Or buying size 20 jeans for the first time in ten years (and discovering that they are too big). Or this picture I just took of me wearing a pair of work pants that were tight on me in June: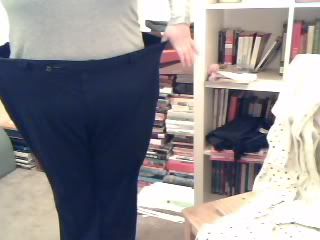 Emotionally, though, I'm drained. Just completely exhausted. I'm ready for a little time off. It just feels like everything conspired against me this week. With the stress of wrapping up the semester, I felt hungrier than usual, and while I worked out about the same as I usually do, it just wasn't enough to balance my choices (which, in retrospect, were not as great as I thought they were). I can still manage great losses with an occasional splurge - but a little something every day adds up.
I'm pretty disappointed in myself, to be honest. Not because my loss was "only" a pound - a loss is a loss, and I'm okay with that. But because I actively made poor choices. Mom made me feel bad on the phone, so I broke down and ate one of the ginger cookies. I'm trying to eat what's in the house before I leave for Connecticut, and one of those things was a frozen container of macaroni and cheese (and not my spaghetti squash with reduced fat cheese, either - the real deal, made before I starting eating better).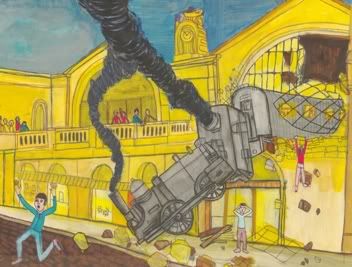 And I knew my boss was ordering pizza for the staff for exam night, and so I ate dinner before I left the house - then I felt hungry post exams, and the sight of it filled my brain with all sorts of warm, comfortable thoughts, so I ate some.
My problem in these situation is not actually about the food so much as my feeling of not being in control. It's not about the pizza - I don't want things to be off-limits, I want to be able to control myself. My problem is with the fact that I forbid myself from having it and ate a full dinner, THEN had pizza. If I had just allowed myself the pizza to begin with, it wouldn't have been so bad. And when my mom made me feel bad, I ate a cookie - not the two or three dozen I would have eaten in the past, but still, I find myself turning to my old coping mechanisms when I feel stressed or overwhelmed.
I think I am especially disappointed because this is my last weigh-in before going to my parents' house. Right now, I am in Chicago, and I am in charge of what I buy and prepare to eat, and I am in charge of when I go to the gym and for how long. If I can't control myself here, how will I do in Connecticut when I am not in charge? I wanted to have a hugely successful last few weeks before heading to the place where I feel weak and powerless and vulnerable. This week was supposed to be a success, because this week I am here, and this week things should have been easy. Chicago is easy - Connecticut is hard. And this is not stair race hard.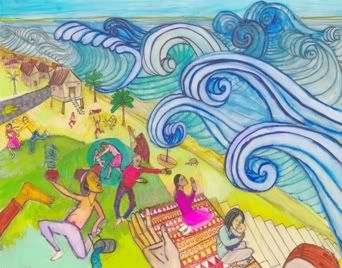 This is not Couch to 5k hard. This is a different kind of hard, a mixture of physical and emotional, and goodness knows the emotional hards are my weak point.
I wish I could just take off whenever I wanted and go to the gym or to a park or whatever like I do when I am in Chicago - but without a car (or a drivers license, for that matter), I'm very dependent on everyone else's schedules. I wish I could keep my own food in the house to prepare for non-holiday meals without criticism. I wish I could offer to make meals for my family without being greeted by either gagging noises or teasing about my being a "health nut." I don't wish that going home will be easy, I just wish that it felt manageable, and not like some huge obstacle. Racing up my office building seemed huge, but I trained and I did it in great time. Running for a minute at a time seemed impossible, but now I'm running two and three-quarter miles at a time. So why does going home to be with my family feel so much tougher than everything else I have done up to this point?
One of my goals for this trip home is to focus more on feeling and less on numbers. My parents don't have a scale in Connecticut, and so this will also be my last weigh-in for 2010. I'm kind of relieved, to be honest. I want to feel in control and make the decisions that are the best for me and my body without fixating on numbers as much as I tend to do. I know exactly when I am eating well and exercising enough, and I will consider my trip to Connecticut a success if my weight upon returning shows maintenance. I'm not looking for a huge loss - or any loss, for that matter. I just don't want to gain. And most of all, I don't want to feel like I am not in control.