For me, writing is an incredible stress relief - letting go of these thoughts really helps clear my head, whether via hand-writing them or typing them out.
This has been a pretty emotionally heavy blog week, and I want to thank everyone not only for hanging in there while I told these long stories, but for all the great comments - I cannot thank you all enough for your support!
Offline, though, this week has been pretty much the opposite - it's been fairly relaxed emotionally. I'm down another five pounds, making my current weight 266 and my total loss 79 pounds. I really kicked butt this week with exercising - I had some slip ups with C25k (which I will write about tomorrow), but I got right back on track last night, running 2.5 miles (oh my goodness, I cannot believe that [a] I just said that [b] I actually did it!). So my total for
Jess
' December Merry-thon challenge is 2.5 miles so far - looking good! And as far as work goes, I'm on top of most of my work stuff, so no all night grading marathons next week like I used to do in grad school! There's a lot to do, don't get me wrong, but I have more than enough time to get it done and still sleep, eat, exercise, and even have a little fun.
Today is the last day of classes for the semester, and I can hardly believe it. I'm more than ready for a vacation, and I'm very excited about what Spring 2011 has to offer. I'm going to have most of my students again next semester, which is good - it makes everything a lot easier since the majority of the students will already be used to my teaching style.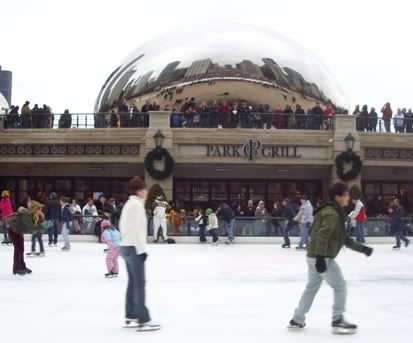 I will be teaching the last of the basic French courses, and although I have taught the material before, it was during an accelerated summer session (16 weeks of work in 4 weeks). So there will be challenges, but nothing outside of my capabilities.
I have a little bit of time in Chicago before heading to my parents' home in Connecticut for two weeks. I want to get ahead with lesson planning for the spring, get caught up with my laundry piles, and explore the city a bit, since Chicago at Christmastime is unbelievably wonderful. Ice skaters in Millennium Park (on my to-try list - I've always been too scared of falling!), the decorated store windows at Macy's, and the giant Christmas tree and the German Christmas market at Daley Plaza ... if that doesn't fill your heart with Christmas spirit, I don't know what will!