Amazing fact:
I have been mostly done with my students final averages since Monday. All that remains is finishing up grading the final exams they took Tuesday night - one of my sections is done, I have one class almost entirely done (5 of 6 pages graded), and one whole class to go. Totally manageable - I'll be done with everything tomorrow.
This is terrific for so many reasons. First, because grades have to be turned in by noon on Friday, so I am usually up all night Thursday hurriedly trying to put everything together - and then I show up at my director's office on Friday mornings looking like quite the hot mess. And second, because as of this moment, I have managed to get through exam week without a binge. I'm pretty impressed with myself - sure, there is considerably less stress now that I am faculty and not a grad student. But still, my default reaction for dealing with any end-of-semester stress has always been to binge.
I can't lie - it's been tough. I've been pretty good with my eating choices, but I *have* eaten more than I usually do.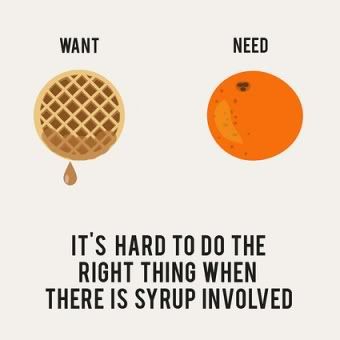 I don't have the urge to binge, but I'm feeling snacky - you know the feeling? I think
Andrew
summed it up best a few days ago:
It's important when you're exhausted to be extra vigilant. I want to put everything in my mouth. Cake, chips, the stapler. Today is a day I really need to count calories.
Amen to that. I went to the gym yesterday even though I wasn't scheduled to in order to try and make up for the extra calories, but my unofficial peeks at my weight are showing hardly any change from last week.
I think this is extra difficult because right now I am also transitioning into a new phase of my weight loss: a purgatory, of sorts. It's the limbo between my extreme high and my goal low, where things are neither great nor awful, neither fast nor slow. I don't want to downplay it - it's extremely important, and it's going to be challenging, but not "just getting started" challenging or "almost there panic" challenging. This phase presents more of a "staying strong" and "not giving up" challenge.
When I started, it was very easy to lose 4-6 pounds a week. Exercises I do now burn fewer calories than when I did them seventy-some odd pounds ago, and that's both awesome and frustrating at the same time. (Just like an awful lot of things weight loss related, I'm finding out.) Now, to get those kinds of losses, I have to either exercise a lot more or eat a lot less - and since work has had me busy, I've been staying about the same on both food and working out, and just accepting smaller losses. I am okay with smaller losses - I knew this would slow down eventually, and I'm trying my hardest to be proud of it.