I spent most of Saturday listening to Christmas records and cooking treats for my co-workers - it was finally snowing for the first time, and I was totally full of Christmas spirit. This may not sound like much, but I'm usually not over-the-top full of holiday cheer, so this was really wonderful. I think quite a bit of it had to do with the new-jeans-self-esteem high I was riding on, but whatever the source, I was grateful for it.
After cooking for most of the day, I headed to the gym to do my running for C25k - another two and a half miles under my belt! As I was leaving the gym, I noticed that I had a missed call from my family. Usually I wait until I get home to call them back, but seeing as how I had over ten minutes to wait for the bus and it was snowing, I figured a quick call would help pass the time and maybe even keep me a little warm.
My whole family was talking on the speaker phone - they were all sitting around the kitchen table playing a family game of Scrabble. With my heart full of spirit, I honestly wished that I were there. They asked what I had done all day, and I told them about baking dozens of gingersnaps, and I told them how proud I was of myself that I hadn't even eaten a single one!
There was silence. Then indistinct whispering.
Jokingly, I asked,
"Are you guys talking smack?"
My sister Lisa quickly replied:
"Yeah."
"What's going on?"
"You can't eat even just one cookie?!"
"Well, I could, but I don't want to. One cookie is like 150 calories. That's fifteen minutes on the elliptical machine. It's not worth it to me."
Then, my mom spoke up:
"You're not going to be a freak when you come home, are you?"
Cue me, standing in the snow under a streetlight, sobbing.
I know what she meant: more "obsessive" than "circus side-show." But the tactless choice of words brought up so many deeper feelings that I've been harboring.
I spoke with a therapist a few weeks ago about my apprehensions about going home, which have been plaguing me since August when I started trying to eat better and exercise. The stress is based on more than simply maintaining healthy eating habits and regular exercise.
This is my family back in May when I graduated: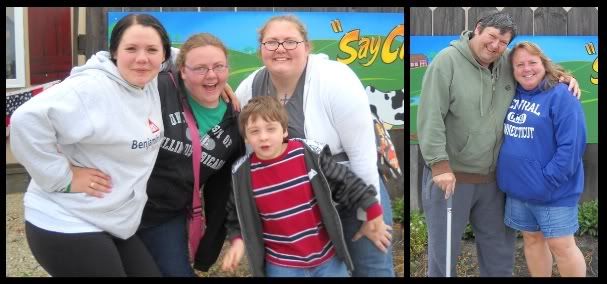 This is me the last time they saw me, compared with me now:

I am by no means "thin" - at nearly eighty pounds lost, I'm still not even halfway to my goal. But I am thin
ner
than I was, and (more importantly) healthier than I was, and that already sets me apart. I might not be the smallest one just yet, but it is likely that the next time I see them, there will be a huge physical difference setting me apart from them.
As I develop my identity as a formerly super obese person, I am losing a huge connection to my family.
There's always been an odd tension because my parents are blue collar folks with high school diplomas and I'm an academic professional with a graduate degree - not a problem, more of an odd distinction that we just can't relate or agree about some things - for example, my mom couldn't understand why I would want to go to college to study French literature, and my dad panicked at the idea of student loans. It's also difficult that they're all in Connecticut and I'm in Chicago, so if Mom is sick or Dan has a chorus concert, I just can't be there the way the others can. They are living a life that I am part of, but only as an extension. And so, wanting to eat healthy and exercise is another thing that sets me apart from a family I already feel hugely distant from.
I've always considered my family to be extremely close. I love them more than anyone or anything else in the world, and I would do absolutely anything for them. I know it's completely irrational, but my heart aches just thinking that they're not going to love me the same as they did back when I was inactive and overindulged on food.
My family, unsurprisingly, are big eaters - especially at the holidays. Everything is rich and heavy, and everything is excessive. I'm not planning on being a "freak" when I get home. I'm not expecting huge losses while I'm there, but I would at least like to maintain - that in itself would be a tremendous victory. I fully intend on enjoying the holidays (within reason) - but Christmas Eve and Christmas Day are only two of the seventeen days that I will be in Connecticut.
After hanging up the phone, I went home and finished making my cookies. I ate one, and it was highly unsatisfying. It didn't make me happy like it used to, and it didn't make me forget how sad I felt after what my mom said. I remember holidays past, sitting in front of the cookie tray and eating every single one of whatever my favorite kind of cookie was that year. I don't want to feel forced to do things I do not agree with because I want to fit in - I don't do that with friends or co-workers, and I certainly won't do it with my family. Hopefully doing well with my exercising will help keep me focused on eating well, and it will help counteract the occasional small indulgences - like I said, I'm not expecting the kinds of losses I see while I am out here in Chicago and completely in control of what gets bought, cooked, and served.
Speaking of exercise, as a final note, my dad called yesterday morning and, in true Dad fashion, told me that he had a surprise for me. He said he knew I was feeling pretty anxious about coming home and being able to keep up my good work, so he had a present for me: a one month membership to the gym in town. I'm so grateful - and partially relieved. I know that between that, the Wii Fit, and training for/running in my 5k on 1/1/11, I will be totally set in terms of physical activity. But the food is my big concern right now, and I'm still really anxious thinking about the pressure I will be faced with in terms of holiday eating (from my mom especially).