My positive sign for the week: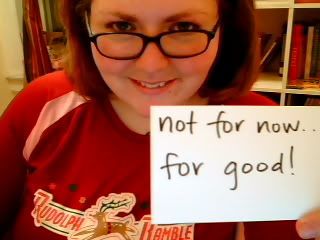 I've been struggling a lot lately, so I think this is a good mantra to keep in mind: the changes that I am making are not temporary. I'm not just losing weight so I can see what 135 looks like and then revert back to my old ways. I need to learn how to live a healthy, well-balanced life - eating well and exercising is great for weight loss, but with maintenance, the keys will be moderation and balance. I want to work on developing these skills now so that when it comes time to maintain, it's already second nature.
Challenge start weight:
332
Current weight:
265
Of the 80 pounds I have lost, 67 have been during this challenge!
Progress on my DDGbG goals:
This week's recipe was a white bean hummus, which I found on the website for Carb-Lover's Diet after
Stephen
had posted about the plan in his blog and on Twitter. I love hummus - really, though, I'm a huge fan of beans in general. They're delicious, filling, and super versatile.

This might not look like much, but trust me, it was totally tasty - and really easy to make! You take a quarter cup of white beans and mash them up with a fork (mine were only mostly mashed, because I was hungry and impatient). Add a tablespoon of chives, a tablespoon of lemon juice, and two teaspoons of olive oil. And voilà, easy as that - dip! I multiplied the recipe to fit a can of beans (all ingredients except the oil, which I honestly think could have been left out entirely) and had it with some veggies for lunch the other day. So good! I really liked the contrast of the lemon with cucumber slices. I'm recently obsessed with fresh mushrooms, so I have been snacking on those a lot lately. I've found a few more non-traditional hummus recipes that I will try when I am at my parents' house because my mom has all the fancy kitchen gadgets that I wish I had!
ONE thing that you are proud of for the week:
I'm proud that of fifty-five students, I gave forty-five A's and B's. I know they did the work to earn the grades, but still, it makes me happy - I must be doing something right!
ONE thing that you can improve upon for the following week:
This week, I need to stay focused. Not going to work every day means that my day-to-day patterns are a little off. Last week I wasn't teaching, just grading, but it was already tough. This week will be even more challenging. I can go crazy, sleep until noon, and eat like junk ... or I can get up early like always, eat well, go to the gym, and do something every day to keep me out of the apartment (if I stay here, I go stir crazy and snack too much!). This morning I am walking a holiday-themed 8k race, that should give my motivation a big boost! A fun Christmas playlist to fill me full of holiday cheer: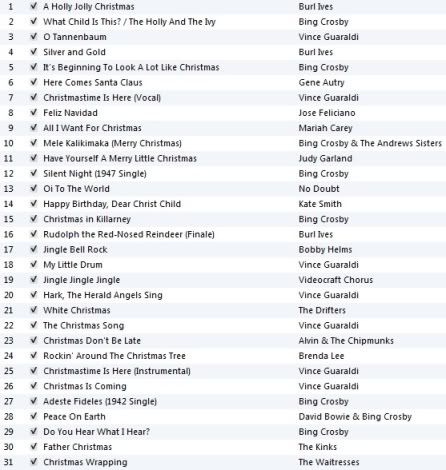 Also, I'm trying to plan things to do around the city (like going to the Lincoln Park Zoo) and new things to do at the gym (I'm ready - I *WILL* get in that pool!), so that should help.