Yesterday, I woke up to a heavy snowfall and high speed winds. "Blizzard conditions," some called it. So, like any semi-sane Chicagoan, I got in the shower, got dressed, pinned on my bib, and headed for the bus uptown for my race.
This is just one of the reasons why I love Chicago. We can't shut down our lives because there's a little snow - otherwise, we'd get nothing done six months out of the year! My boss says that in the fifteen years she's been working for the university, classes haven't been canceled once. And I like that - in Connecticut, even a threat of flurries sends everyone to the grocery store for bread and milk. Here in Chicago, life goes on.
This was the view from the bus stop as I was waiting: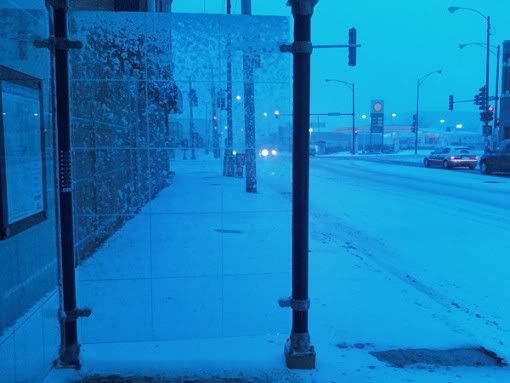 Less than ideal, but manageable. In terms of Chicago weather, this wasn't the worst I've ever seen. I kept checking my e-mail from my phone to see if there was any news about the race being canceled - I figured that I'd head out anyway, and even if I got all the way there to find out the race was canceled, I'd just head back and go walk an 8k at the gym. It's a Sunday morning during my vacation, what do I have that's better to do? (You know, besides laundry, dishes, and packing my suitcase for Connecticut.)
I had to transfer buses to get to the race, and as I got to the second bus stop, there was still no race update via e-mail. When I got on the Diversey bus, there were two other people in their racing gears, so I figured that while I might be crazy, at least I wasn't the only one.
The race started in front of the Nature Museum, and this is what the ground looked like as we waited for the start: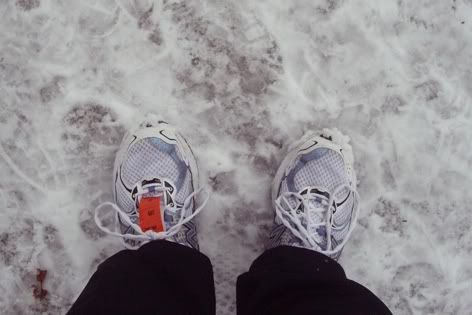 They probably shovel and plow downtown, but in most of the non-Loop neighborhoods, it seems that clearing the sidewalks isn't really a high priority. In Pilsen, where I live, it just gets packed down - which makes for a very slippery commute, let me tell you! I've only slipped and fallen once since moving here, which I'm proud of - I'd rather take twice as long to get somewhere than rush and get hurt. Some folks I know in the city have really messed up their backs and/or knees from falling on icy sidewalks.
The race was sold out - which means a couple thousand spots sold. Only a couple hundred showed up to the race, though. It was really interesting to see so many people unaffected by the serious storm all around us.
Stretching, running in place ... yup, just another race, no big deal. People still wore costumes, even! Lots of Santas, Mrs. Clauses, elves, and giant gift boxes. Despite the reduced turnout, I was still so glad to be there. I know I say this all the time, but I
love
participating in races - even though I am not running them just yet, I love feeling like a part of something wonderful, a big group of people with a common interest. And especially this Sunday morning, where it was all the die-hards ... nothing was coming between us and those 4.97 miles, and that was great.
The only problem was that of the people who bailed on the race, it was mostly the walkers. Usually at these races, there are a few hundred walkers, and so even when I finish after quite a long time, I'm usually in good company. This time, there were only maybe a dozen of us.
It wasn't bad since I had my Christmas tunes playing and the snow was really only a minor irritation, but still, there were tough moments - like how they packed up the water station before I even got to it, or how they put away the chip timer about four minutes before I finished, so I don't have an "official" finishing time. But there were some great parts that made up for it - as I was passing the four mile mark, some non-race runners were on the other side of the path, and quite a few of them cheered me on - saying to keep up the good work, and to finish strong, and that I was doing great.
And I thought, "You know what? I
am
doing great!" Because a lot of people decided not to even show up for the race, but I started.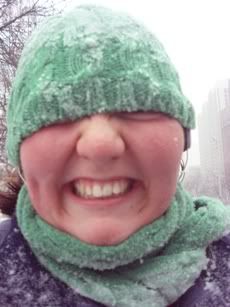 And when I finish, even if I am dead last, I'm still finishing! On
Skinny Emmie
's blog a while back, she posted a great concept: DLF > DNF > DNS. Dead last finish beats did not finish, did not finish beats did not start.
And, for the record, I was not even dead last - there were a whopping three people walking behind me. But the important thing is, we finished, and that's what matters.
With this race, I was really unconcerned with beating my time at the last race - the conditions just weren't ideal. I wasn't willing to break my neck in order to shave a few seconds off my time. I did the math when I got home based on how far I got into my winter playlist - 89m12s, about eight and a half minutes longer than my last 8k, and I have no complaints or regrets. I still felt like a champion.