I would bet money on you guys being sick of hearing about me say how down I've been feeling. To be honest, I'm sick of it myself. I miss my usual cheerful self, and I miss the go-for-it-you-can-do-it-ness I've had for the past few months. Luckily, there are only four more days of teaching, several dozen final exams to proctor and grade, and three sections worth of students' final grades to calculate between me and a month of vacation. Even now, with just the long weekend for Thanksgiving, I feel recharged and ready to push forward.
I'm down two pounds this week, which is a miracle considering how little exercise I did and how poorly I ate. There were no binges, thank goodness, but considering I didn't do much exercising, some of the choices I made weren't great. There were so many strikes against me this week ... lots of work to do, general fatigue, and problems with my health insurance that might mean that I am unable to continue to see the therapist I met with on Monday, so I am back at square one with that.
On the other hand, though, I need to step back and realize that I managed a two pound loss during a week that contained both my birthday *and* Thanksgiving. So I'm pleased, but I also have a plan for getting back into my usual habits. I think I am mostly concerned about slacking now because I only have three weeks until I go to Connecticut, and I want to do the best that I can now so I can head into this challenge feeling strong and confident. After my sister's report on Thanksgiving...

... I'm going to need all the help I can get. *sigh*
As for me, I spent Thanksgiving alone here in Chicago, which wasn't actually all that bad. I started the morning with the race in Lincoln Park - it had rained the day before, so the paths were kind of muddy, but it was mostly cleaned up, cloudy, and not too cold, so it wasn't too bad. In addition to the race shirt they gave me, a light hoodie, and track pants with long underwear underneath, I wore the blue fleece vest from Old Navy that I got for the Trick or Treat Trot.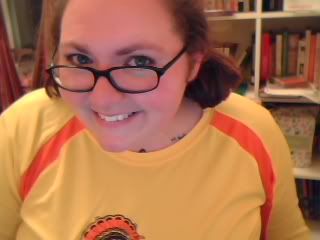 It already feels so different to wear it with fifteen fewer pounds inside! I also wore my hair in little pigtails since I got a haircut last weekend and so now it's pretty short, and there isn't much I can do in terms of pulling it back.
The path started on Diversey Harbor in front of the Nature Museum, went north a bit before heading south through parts of Lincoln Park Zoo, then around and back north. I had planned for 90 minutes - about 18 minutes per mile - and included extra songs on my playlist if need be. My official time ended up being 1:20:29.8 - my pace was 16:12! It's just over half a minute more per mile than my best 5k pace, but considering this race was nearly two more miles, I'm more than thrilled.
For Thanksgiving dinner, nothing special: some chicken, salsa, and a cup of spaghetti squash mac and cheese. Totally delicious - and all under 500 calories! I spent the afternoon napping and watching "The Golden Girls," and then motivated myself enough to clean my office and start cleaning my living room. Hopefully today I finish so I can put up my little Christmas tree!