This week was tough on almost every level - it started out strong with beating my personal best time at the 5k on Sunday, but life has thrown quite a few difficult things my way.
Work has been challenging again - it's nearing the end of the semester, which means the students are all stressing pretty bad. Next week should be a little better since two of my three classes will be watching a film for most of the week. But I'm getting observed in my third class, which is always a major stressor - moreso than it ought to be. After my last observation, I went into the staff office and everyone was complaining about how terrible their post-observation meetings went - and it was tough, because in my meeting, the director told me that I was "an exceptionally gifted educator."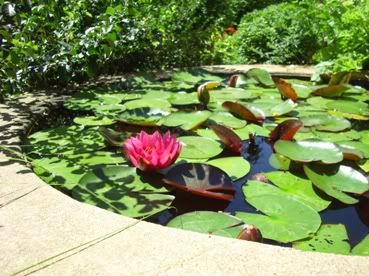 It made me feel amazing, but as great of a compliment as that is, it made me very nervous about the already extremely high bar I set for myself in terms of my work.
The end of the semester also means that I need to start looking for possible jobs for next year - my contract at the university is only for a nine month, visiting lecturer post. The job I have right now was an absolute blessing, and it's the first full-time job I've ever had - this is the first time since I was four years old that I haven't been a full-time student. So I will teach Spring 2011, but after that, I'm back at square one. I want to find another lecturer job - this is my dream job, I absolutely love teaching basic French to college kids, and ideally I'd like to do it for the rest of my life. But the problem is that I'm out there competing with PhD's who also need work right now. I'm already polishing my CV and thinking about how to let any colleges and universities that I apply to know that I am, without a doubt, the best lady out there for this job. But it's still scary and stressful. I'm a lady who loves a plan, and this kind of uncertainty makes me really anxious.
Whatever is going on with my mother seems stable for now - I have talked to her a few times, with no more details than the first call, but that's okay. I'm pretty upset that I'm not in a position geographically or financially to drop everything and go home, but my mom said that it's not so serious that I need to do that. I trust that, despite her secrecy, she would tell me to come home if it was really a big deal - because when her mother had her heart surgery, she hadn't been told that it was as serious as it was, and unfortunately my grandmother passed away while my mom was on a flight down to Florida. At a layover in Georgia, she called home to check up on us, and we had all just heard from our uncles that Grammy had died. When my kid sister Katie answered the phone and Mom asked what was going on, Katie burst into tears. My mom found out over a payphone, alone in a strange airport, that her mother had passed away. She started sobbing and fell to the ground, and she said the only thing that got her through to her connecting flight was a stranger who asked her what was wrong and gave her a big hug and helped her orient herself for the second leg of her trip. Despite the powerfulness of this random act of kindness, I know she would not want any of us to have the same kind of experience. So I trust that she's being honest at least with saying that it's not so serious right now that I need to be by her side.
I'm down another four pounds this week, to 282 - a total of 63 pounds gone, which is exactly 30% of the weight I want to lose long-term!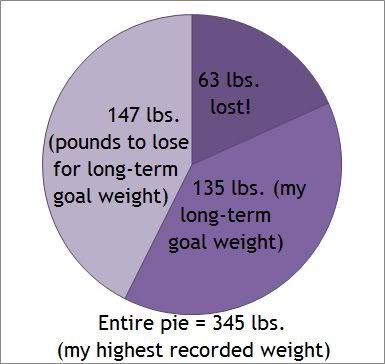 It's a big week for "mile markers" - not only hitting the 60 pound loss, but I also have officially lost over 10 points off my BMI score! I'm nearly into another "decade" of weight, and I'm quite pleased.
My October pedometer challenge ended well - I logged 350,799 steps, which was 113% of my goal - and I have enjoyed the third week of the Couch to 5k thus far. But for the most part, I took it easy with exercise this week. I just had too much on my mind, and while exercise usually helps me clear it, I took other measures this week. For example, on Wednesday, I went over my cousin Sarah's apartment and we had dinner (she made an incredible beet soup - lots of dill, which I
love
! - and Irish soda bread with raisins) and watched a movie. We talked a lot, and that really helped me - the last time I saw her was at the stairathon, about fifteen pounds ago! She and her boyfriend Marty are my strongest real-life support, and I am unbelievably grateful for having them so close by!
Gratitude has been something I've been thinking about a lot lately. Every day, usually while waiting for the bus in the morning, I take my little pink Moleskine notebook, and I write whatever I am feeling grateful for. Usually it's one to three things, and they can be simple or profound. Some examples:
10/17/10: I am grateful for beautiful days like today. I am grateful for the energy to go out and make the most of today.

10/21/10: I am grateful for the moments of peace when I sit back, breathe, and recognize that I am doing the best that I can.

10/26/10: I am grateful for good days like today that make bad days worth it.

11/02/10: I am grateful for my options in life. I am educated and a hard worker, so I am destined to do great things with this life!
Every single day, I am grateful for you. You, the people who read my words and who share your own stories and who help me with my struggles as well as give me pats on the back. I love that I feel safe here, that I can be honest and open and share exactly what I am thinking and feeling. I've never had a community like this, and I cannot thank you enough for the overwhelming love and happiness I feel because of your support.