Yesterday my mom had her surgery, and I was really ill-at-ease for most of the day. I called in the morning just as she and my two sisters were headed to the hospital, and she seemed very calm. It's times like these when I really regret moving so far away from my family. I love them so much - even with all the problems and stresses we've had to deal with in the past few years, I feel like we're all incredibly close and amazingly supportive of one another. And so, my heart feels very heavy when things like this happen, and I can't drop everything and be at their sides.
I told her about fifteen times that I loved her, to the point where she (jokingly) was like, "I get it, I get it!" The thing is, I'm very afraid of forgetting to tell my family how much I love them and how much they mean to me, so I tend to go overboard. On Christmas Eve, 2001, we were all at my mom's aunt Joanne's house celebrating my great grandmother's birthday - her birthday was Christmas Day, and her name was also Mary Elizabeth.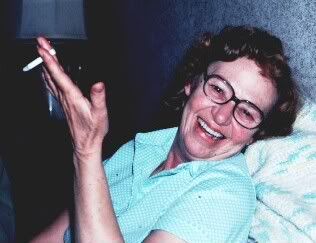 I was so tired when we were leaving that I didn't say goodbye to Great Gram, I just got to the car and fell asleep. And when we got home, there was a message on the machine saying shortly after we left, Great Gram sat down on the couch with all her birthday presents around her - she said that the pink bedsheets with roses were
exactly
what she wanted, and that she was so happy - and then she put her head on Joanne's shoulder and went unconscious. She died two days later, and I never got to say goodbye. I was the namesake. I loved her so much. And besides
my uncle Johnny
, I had never lost anyone close to me before. So I was devastated, and now I have a very strong fear of losing those that I love without their knowing often just how much I love them and how much they mean to me.
So when Mom hung up, I got a little teary, but still, I had faith in the idea that she would have told me if it were so serious that I needed to be there.
Let me just say ... longest day of work EVER.
I sent my sisters text messages a few times throughout the day, mostly variations on "any news???" She was scheduled to go under at 12:30, and the reply I got to the message (over an hour later!) was that she had only just gone in because it had taken forever to get her information together, mostly due to the fact that one of her tests had only just been taken last week.
"She's not worried at all, which is good."
Glad one of us wasn't! My heart was in my throat all day.
I texted again an hour or so later, and again, no replies for what felt like ages. I know there's little to no cell phone service in the hospital, but still ... it felt like ten times as long as it actually was. Finally, a message: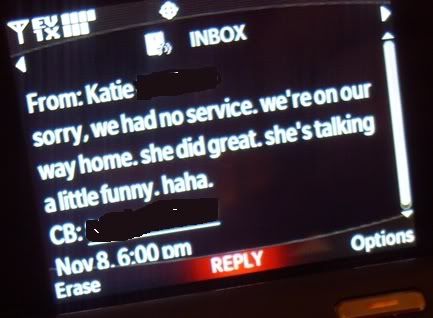 What a relief!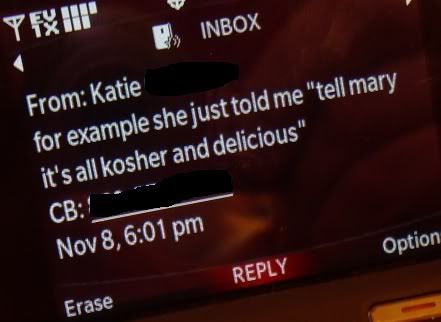 Oh, Mom. I miss her so much. And even though I wasn't there, I'm really glad that both my sisters were. And I'm so grateful for modern technology so we can relay information so quickly.
I felt very relieved as I headed to the gym and took my stress and frustrations out on Week 4, Day 1 of the Couch to 5k (I can't wait to look back on this one and smile, because for now, running for five minutes is a real challenge!).
When I got home, I videochatted with my sisters and they told me some more of the ridiculous things Mom said on the way home from the hospital - like, "Really, does anyone care that Mariah Carey is pregnant?" and "I think - no, definitely, I definitely saw our cat in the recovery room." They talked about Christmas and getting us all into matching pajamas like when we were kids since we will all be able to fit into clothes from Old Navy or Target - it felt amazing. I'm focusing on positives.
So thank you everyone for your love, prayers, and support - today went well, and hopefully the tests come out fine. Of course, I'll keep you all posted!