The other night, as I was leaving the gym, I noticed I had a missed call from my parents. I called them back, and Dad said he hadn't called and Mom was asleep but he'd let her know I called back. We talked until I got on the bus, and that was that. Yesterday I called her back as I was leaving work. It seemed like her usual "just checking in" sort of conversation. I kept asking what was new in Connecticut, and it was met with the usual "oh, nothing much."
Then, without warning:
"Oh ... I'm having surgery on Monday."
My stomach clenched up.
The thing about my mom is, she's very private. Her mother was the same way, and so am I. Speaking for myself, I don't share most things with my family and friends because I want to make sure everyone else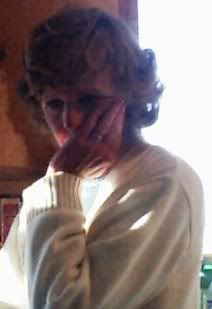 is taken care of first, and I just don't want people to worry about me. (Which is, again, one reason why my honesty here in this blog is really out-of-character for me, because I'm a very secretive person.)
With my grandmother, everything was a secret, always. When she went into the hospital in June 2006, she referred to what was going to happen as "a small procedure," yet when we all arrived at her home the day after she passed away post-surgery, all her important documents were laid out on the table and everything she owned was covered in Post-It notes saying who it was for. It wasn't small. It was actually really serious and her odds weren't great. But she didn't want people to worry.
So when my mom said this was just going to be a small procedure, tears welled up in my eyes, and I let the bus pass right by me.
My sisters and I have known that our mom hasn't been feeling well for a while, but she usually dismisses it with the same excuses her own mother used to give - it's nothing, really. And yet she sees specialist after specialist, refusing to let us know what gets said. It especially worries us when she goes to heart doctors, since that's what was wrong with her own mother. This most recent health issue started quite a while ago, and we finally convinced her to go get the tests that the doctor suggested literally months ago.
"What is going on, Mom?"
"Well, I guess I have something like a cyst on my ovary. It's only, like, seven centimeters."
Only, like, seven centimeters.
My honest first thought was frustration at not knowing the metric system better, because seven is a pretty big number when you're measuring
anything
, let alone something growing inside your mother.
"So what are they going to do?"
"They are going to inflate my stomach a bit, go in through my bellybutton, and take care of what they need to take care of. Might have to remove an ovary."
I am full on sobbing at this point, trying to do it as quietly as possible because once she knows I'm getting emotional, the details might stop.
"It's not cancer, though, right?"
Silence.
"Right?!"
"Don't worry. It's nothing."
We wrapped up our conversation, and I headed to the gym. My first reaction to news like this is to binge, usually pizza or some heavy takeout - I overeat to the point where I get tired, and then I fall asleep so I don't have to deal with my present realities. But I can't do that anymore, and even though I know in the back of my mind that it's better for me in the long run, right now, it really hurts.
I worked hard at the gym, ate a bowl of escarole and beans, and participated in the Fitblog chat on Twitter. And I really wish I could say it was enough to get me through. It usually is when dealing with work stresses or minor family/friend problems. But this is a pain that I really can't soften with exercise. I know coping with things like this is part of being a grownup (and one of the lousier parts, at that). But right now, I feel like a little kid, really lost and aching, and I'm not allowed to have my one, reliable security blanket.
So what do I do now? How do I cope with really big hurts?