Would you like to help with my birthday blog post? Details at the bottom of this linked page! Thank you! ♥
A few days ago,
Amy
gave me an award on her blog.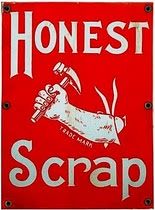 It's for honest blogs, and I'm very grateful for receiving this award.
I'd like to pass it on to
Jess
(whose honesty I admired greatly when she decided to stop posting her weight with her DDGbD updates, saying it took the focus away from her fitness progress),
Lesley
(who is amazingly honest with describing her struggles with binge eating),
Jayme
(whose Fat Jayme/Fit Jayme conversations I can completely relate to), and
Tim
(who talks about his experiences at the gym with incredible ... detail, let's just say that).
And so, here are ten honest things about me and my life:
(1) I am always completely honest in this blog.
Which may not sound like much, but in my real life, if you met me on the street and asked what my name is, you're likely to get any of a thousand responses not including Mary.
I do this because
(2) I hate feeling exposed and vulnerable.
Saying my name is Helen or Judy allows me to feel an odd sense of protection.
And that's one of the reasons why I think I have hit this emotional wall this week -
(3) now that I'm losing weight, I am starting to feel unsafe.
Not necessarily physically unsafe, but more mentally and emotionally. I'm losing the physical shield that I've used for so long to make myself "invisible." People are starting to talk to me, to sit next to me on the bus. And that scares me.
(4) For the longest time, I believed that my obesity was going to kill me, likely before I turned 30.
At 23, I was in the winter of my life. And now that my terminal sentence has been overturned and it appears that I'm going to live, there are new things I am going to have to deal with. I'm no longer a hopeless fat depressed person - I'm taking control of the fat part - which leaves me with the depression I've ignored for so long.
So,
(5) yesterday I called and made an appointment to talk to a therapist.
I already feel a little better knowing I have a plan and that I'm going to talk to someone who specialises in exactly what I'm dealing with.
I haven't seen a therapist in years. We used to go after my parents got divorced, and then
(6) I was required to go to therapy my freshman year in college because of a very deep depression.
I did *not* attempt suicide, though I spent a night in the hospital getting observed. I was just really swamped with all the new changes in my life - going to college, living away from home, meeting new people, etc. - and it was too much for me to handle. I'm alright with one change at a time, but too many can get me feeling overwhelmed.
I'm really glad I got help then, and that I am going to get help now. I can't do this on my own just now, and I want to take care of things before they get more serious.
(7) There is a history of serious mental illness in my family
, including an uncle who got so overwhelmed with stress that he had a mental breakdown and became schizophrenic. I'm very aware of these genetic strikes against me, and so usually when stress gets to me, I have become very good at recognizing that I need to step back and take care of myself for a while. This time, with my weight loss, it is a bigger problem than I can handle on my own, and it will be an issue for a long time, so I am calling in some reinforcement.
My appointment is next Monday, and so to tide me over until then, I got a little notebook and started taking notes about things I'd like to bring up. For example, any specific weights I remember from growing up - specifically
(8) the 100-lb. gain in the two years after my parents got divorced, which was the birthplace of my problems with binge eating disorder.
I'm very hopeful about therapy, and I'm really looking forward to posting some good news here again.
(9) Writing in this blog has been crucial to my success so far
- so many times I have given up because the task seemed so daunting and I felt so alone on my journey. I didn't think I was strong enough to go it alone. The incredible support I get from my blog community has helped me see that this is not only something I can do, but that I am never alone through this. I love your advice, your critiques, your empathetic stories, and even just your readership.
These have been some pretty heavy honest things, I admit. So, lastly, a silly one.
(10) I was once on the Disney Channel.
When I was in middle school, I was part of a puppeteer troupe that taught third graders about AIDS (nothing heavy since they were so young, mostly stuff like "you can't catch it by holding hands"), and we were filmed as part of a Disney-produced documentary about AIDS. I'm on screen for a total of about three seconds, but still, it's my favorite thing to stump people with when playing Two Truths and A Lie.