I have never been the kind of girl who was interested in going out for New Year's Eve. Partly because of weight-related shyness, partly because I'm not really a big drinker. But I think mostly it's because even though January 1st is the beginning of a new calendar year, most of my life has been based around other annual rhythms. The school year, for example, usually brings new opportunities - new beginnings as well as new notebooks and new pens. A new school maybe, or new classes and new teachers - and always, the promises I make to myself to be a better student - or at least, less of a procrastinator.
I've also paid special attention to my birthday for the same reason, making plans of things I'd like to get accomplished in my next year. Like most New Year's resolutions, I have always devoted myself one hundred ten percent for the first day or so, and then my efforts taper off. No time, no motivation, no whatever - it seems I'm always short of everything but excuses.
My plans for November 20, 2009 to 2010:
1 - Lose weight.
2 - Read 10 "classic" novels I somehow missed in high school/college.
3 - Stress adequately over MA exams and PhD or job searching.
4 - Stop talking to Scott.
5 - Do wonderful things for other people as often as possible.
Unfortunately, I'm still no closer to reading "The Odyssey" than I was last November, but I'm more than satisfied with my progress on the other four.
Doing nice things for other people has felt just as rewarding as I thought it would - of course, it's something I already try to do in my daily life, but being extra conscious of it for a year has made me more aware of just how many people I interact with every day. I say hello to every bus driver and grocery store clerk, I leave change in the tip jar of the café every morning when I buy my cup of ice for ice water, I smile at kids, and I try to be there for anyone who might need help or someone to talk to.
Cutting off contact with Scott (a painful person from my past who needs an entry all his own to explain) was fairly difficult, but I'm happy that I've done it. I'm a year older, a year wiser, and in a completely different emotional place than I was last November. He is not good for my heart, and he is not good for my head. And I am very glad that I am maturing enough to recognize that.
It's so strange to think back to a year ago, with my impending exams, and recall how completely stressed out I was. They were already seven months ago! And after my oral defense, when they called me Master and told me I had passed, it was both exciting and terrifying - like most things in my life lately, I guess! It meant I would get my graduate degree, but also, that I would need to find a job. I was so lucky to get a full-time university lecturer job, and I'm so grateful for everything that has come with this opportunity - working with great faculty and staff, educating students, staying in Chicago, and making enough money to support myself *and* have a little fun sometimes.
And then, finally, there's the weight loss. Even when I wrote out my to-do list, I thought this year was going to be like every year - great intentions, but little to no action.
Yet, as of yesterday's weigh in, I have lost 72 pounds so far this year.
This is still so unbelievable to me. I haven't binged in months. I routinely choose cooking for myself over takeout. I've done a stair race. I've been doing 5k walks. Today, I'm going to run for two miles, which is two miles more than I could do last year; in about a month and half, I'll be running a 5k. This is, hands down, the best gift I have ever received.
And speaking of amazing presents, I cannot give enough thanks to everyone who sent me their birthday messages!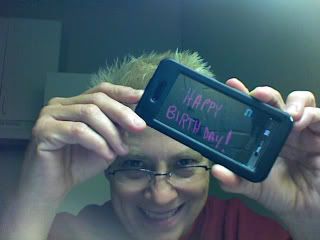 Anne
Lesley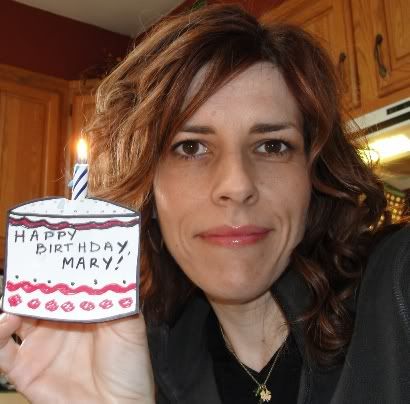 Ellen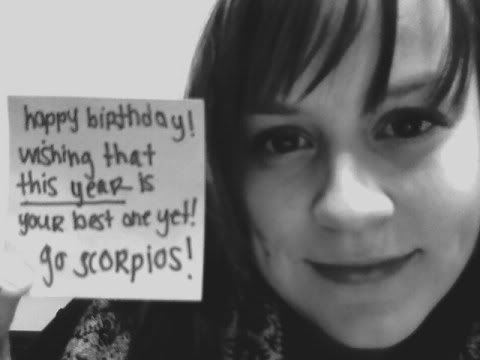 Amy
Caroline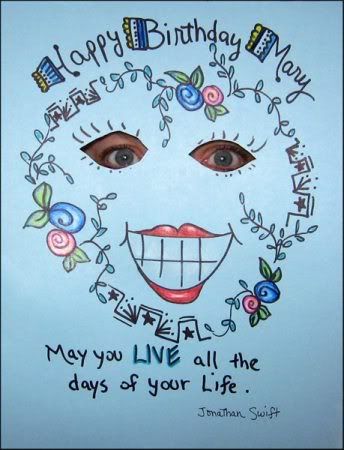 Loretta
You ladies are
amazing
- creative, supportive, funny, and just all around awesome! I am so lucky to have such an strong community here. This is, without a doubt, my best birthday ever; this will be, without a doubt, my best year ever.
So, here's to my twenty-fourth year, and all the chances and opportunities I have in front of me. Happy New Year! Tchin-tchin!