This morning, I am heading uptown for the Turkey Trot, an 8k race. I'm walking the race, but I'm still really excited to get out there and get the blood flowing early in the morning!
My 5k pace at my last race was 15:38, but an 8k is nearly two more miles than a 5k, so I am hoping for an 18 minute mile pace. I made a 90 minute playlist, plus a few songs to make it an even 25 (and in case I need the extra time!):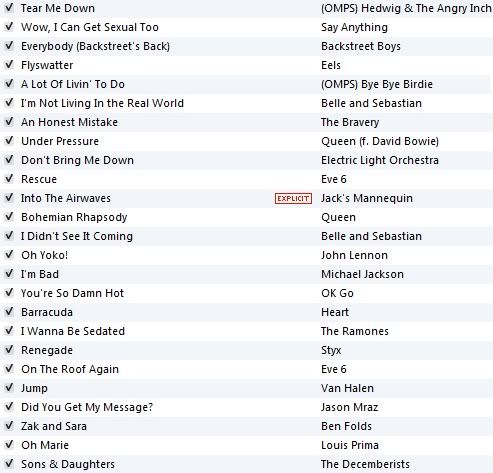 It's a really bizarre and random mix, I know. It was a lot harder to come up with Thanksgiving themed music than it was for Halloween, so I just went for high energy stuff. My next race (another 8k walk on December 12) will be full of Christmas tunes!
Since I only get two days off for Thanksgiving 9and the semester is over in a week or two anyway), it isn't worth it to fly back to Connecticut, so besides the race, I'll be spending the day alone. I'm actually kind of excited - I'm going to rest, catch up on blog commenting, and not go overboard with food. Dinner will be chicken with salsa, broccoli, and some spaghetti squash mac 'n' cheese I made a few weeks ago and froze into individual portions. Delicious!
I'm going to also work on my plan for going back to Connecticut for December, since that will be my major challenge of a holiday. I'm putting together a notebook so I can keep track of food and exercise - for now, I am working on a section for safer socializing. If we go out to dinner, I want to know the best choices I can be making - I just want to be as prepared as possible. I was reading one of the "Eat This, Not That" columns (which, if you haven't seen before, I highly recommend!), and my favorite sandwich at Red Robin - which I assumed was an okay choice - has almost my entire day's calories!
But Christmas is still a month away. For now, happy Thanksgiving to all the Americans, and happy regular Thursday to everyone else! Whether it's a holiday or not where you are, keep up your great work and do the best that you possibly can!