My positive sign for the week: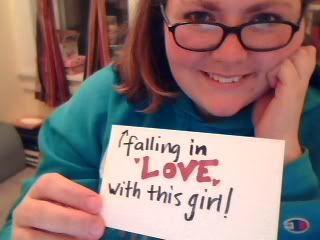 Not sure what happened to flip the switch, but in the past two or three days, I've felt really beautiful. I know I still have a long way to go before I get to my goal weight, but it's nice to enjoy the ride a little. I guess I've loved myself all along, even at my biggest, and even though I hurt and mistreated my body. And I love this girl now, because she is lovely and motivated and capable of incredible things. And I just can't wait to see how things keep going for her!
Challenge start weight:
332
Current weight:
271
Of the 74 pounds I have lost, 61 have been during this challenge!
Progress on my DDGbG goals:
I totally love making new recipes. They've almost all been successes, and I like mixing things up and trying something new. For this week, I made Thai peanut turkey burgers ... and holy moley, were they good!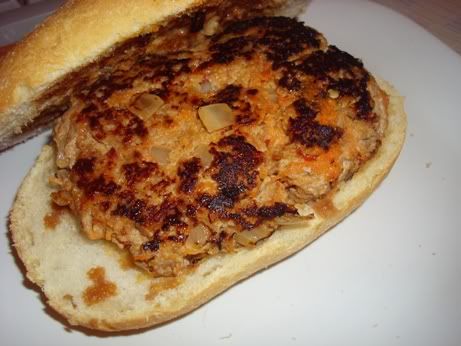 It might not look like much, but it was seriously amazingly delicious. I found the original recipe
here
, but (surprise, surprise), I modified it a little. For example, I only had regular peanut butter and not all natural. I omitted the sesame oil, because it seemed extraneous, and it turned out that I was right. I accidentally bought scallions instead of shallots because I'm forgetful and still learning about how to cook, so I used about a quarter of a sweet onion chopped up small. I also used about 10 baby carrots instead of one medium carrot, because it's what I had in the house.
In the original recipe, the author also made a chili-cilantro mayo to spread on top, but I skipped it for a couple of reasons. First, because the taste of cilantro is absolutely the worst flavor in the entire world. And also, because mayo just isn't worth the calories to me. The burger was spicy, delicious, juicy, and flavorful - no accents needed!
I told my sister Katie about these burgers, and she said they sounded amazing - she really likes spicy Thai food too, so I will probably make these when I am in Connecticut!
ONE thing that you are proud of for the week:
I had hoped to finish my Thanksgiving 8k in 90 minutes (about 18 minutes per mile) - I ended up finishing in 80:29.8, or 16:12 per mile. Go Mary, go!
ONE thing that you can improve upon for the following week:
Keeping up the good work. Besides errands, I spent most of yesterday at home doing housework (mopping, dishes, dusting, sweeping - the works!), and I spent all day Friday at the office grading and getting ahead for work (the sooner I finish, the sooner my vacation starts!). I'm finally getting caught up on the things that have been stressing my life, and so everything else is going smoothly and falling into place.