My positive sign for the week: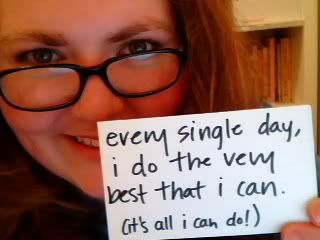 My new mantra, and not just for the week.
Challenge start weight:
332
Current weight:
282
Four more pounds gone this week - which brings me to a total of 50 pounds lost while tracking my weight for this challenge! I can hardly believe it.
Progress on my DDGbG goals:
The last of my original four goals was to tell my family and friends as often as possible that I love them. With everything going on with my mom, I've made sure to keep in touch even moreso than usual. For friends, though, this had been harder recently.
Today is Jill's birthday, and most people who usually read this blog probably have no idea who that is - the fact of which just adds to how painful it is for me.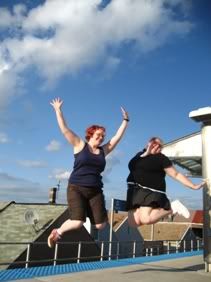 It's just amazing that I haven't mentioned her more in here. Jill is my best friend, my absolutely inseparable best friend with whom I went to college, and with whom I traveled to Paris for the first time, ... and with whom I have not spoken in several months. For some reason unknown to me, she just started ignoring my messages and my attempts to communicate. In the meantime, she has changed jobs and moved out into her first apartment, and I didn't even know her new address to send her a birthday card (which is a big deal, because we are intense letter writers and package senders - one summer, we sent about a hundred letters back and forth). I sent a card to her mother's address, noting that I was unsure of why we haven't spoken in so long, and letting her know that I hope she has a great birthday and I miss her very much. I'm not sure what will come of it, but it's going to be a difficult day nonetheless.
For my recipe this week, another soup - it got colder here in Chicago, so I wanted to make something warm, seasonal, and spicy!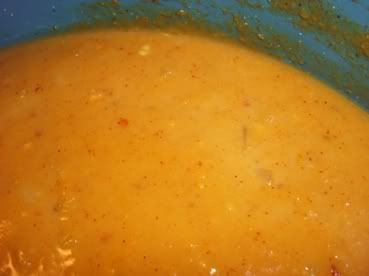 Spicy Pumpkin Soup Recipe
[Adapted from this recipe]

2 tbsp extra virgin olive oil
2 medium yellow onions, chopped
2 teaspoons minced garlic
1 teaspoon crushed red pepper
2 teaspoons curry powder
1 teaspoon ground cayenne pepper
3 (15 oz) cans pumpkin purée
5 cups of chicken broth
2 cups of milk

1. Heat oil in a 6-quart saucepan over medium-high heat. Add onions and garlic and cook, stirring often, until softened, about four minutes. Add spices; stir for one minute.

2. Add pumpkin and chicken broth and mix. Bring to a boil and reduce heat, simmer for 10 to 15 minutes.

3. Transfer soup, in batches, to a blender or food processor. Cover tightly and blend until smooth. Return soup to saucepan.

4. With the soup on low heat, slowly add milk while stirring to incorporate. Adjust seasonings to taste. If a little too spicy, add milk to cool it down.
Per usual, I made changes - I don't have a food processor or blender, so I just chopped the onions really tiny - I like a little texture here and there with my soups, so it wasn't bad. Also, in the original recipe, the author said it was too hot, so she added some cream and brown sugar. I omitted both and doubled the spice quantities that I listed here (some of which were already much more than what she said). I never used to be able to handle spicy food until I started to eat healthier - now I totally love it. I think it has something to do with becoming more aware of food as something delicious and nourishing, and not just something I eat quickly and indiscriminately because I am bored or stressed.
This recipe made eight servings, seven of which are in my freezer. I like cooking something big like this and putting some away for busy/lazy weeks - like this past week, when pretty much every dinner I ate was something I had taken out of the freezer. I usually spend one or two Sundays a month cooking up a storm and then loading up the freezer with little containers of soup, or spaghetti sauce and mini meatballs, or some sort of chicken and vegetable creation I thought was delicious but couldn't imagine eating leftovers of for days and days.
ONE thing that you are proud of for the week:
I had a couple slices of pizza for dinner on Friday night - and I didn't binge and eat a whole five thousand calorie pizza pie in one sitting! In fact, I didn't freak out over calories at all, really - it was only a few more calories than I usually have at dinner, not so many that it would throw off my groove - plus, I knew I would be working hard the next day, so I let myself enjoy this little treat responsibly. And - it was incredibly delicious. Thin crust, spinach, tomato, and goat cheese. A-mazing. It was like I had never tasted pizza before in my life, and thinking about it, that might be true. I ate it mindfully and savored the whole experience, and felt very satisfied afterwards. It's a big preparatory step for going home at Christmas - enjoying food without getting carried away. It felt like a huge victory for me.
ONE thing that you can improve upon for the following week:
Relaxing! This is going to be a stressful week (mostly due to my teaching observation on Thursday), so I need to make sure I take enough time to relax.