Last night when I started writing this entry, it went in about ten different directions, and it got pretty emotional. I'm fine, I just had a lot of ideas and no clear path for explaining them. So, I abandoned it for the night, and I decided to sleep on my thoughts. I'll have an actual story to tell tomorrow.
For today, I'd like to share a recipe I found in Cooking Light about a year ago: Southwestern falafel with avocado spread. I made it, and I fell in love. I made it for my sister Katie, who raved about it. I made it for my dad when he came out to visit last year on St. Patrick's Day weekend, and even
he
loved it! So that means it's a win for me.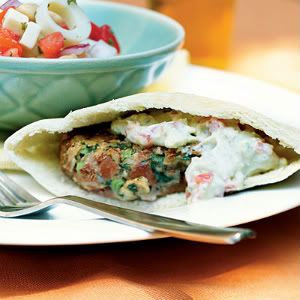 Southwestern Falafel with Avocado Spread

Patties:
1 (15-ounce) can pinto beans, rinsed and drained
1/2 cup (2 ounces) shredded Monterey Jack cheese
1/4 cup finely crushed baked tortilla chips (about 3/4 ounce)
2 tablespoons finely chopped green onions
1 tablespoon finely chopped cilantro
1/8 teaspoon ground cumin
1 large egg white
1 1/2 teaspoons canola oil

Avocado spread:
1/4 cup mashed peeled avocado
2 tablespoons finely chopped plum tomato
1 tablespoon finely chopped red onion
2 tablespoons fat-free sour cream
1 teaspoon fresh lime juice
1/8 teaspoon salt
2 (6-inch) pitas, each cut in half crosswise

1. To prepare patties, place pinto beans in a medium bowl; partially mash with a fork. Add Monterey Jack cheese and next 5 ingredients; stir until well-combined. Form into 4 (1/2-inch-thick) oval patties.
2. Heat oil in a large nonstick skillet over medium-high heat. Add patties; cook 3 minutes on each side or until patties are browned and thoroughly heated.
3. To prepare avocado spread, while patties cook, combine avocado, tomato, red onion, sour cream, juice, and salt. Place one patty in each pita half. Spread about 2 tablespoons avocado spread over patty in each pita half.

Yield: 4 servings (serving size: 1 stuffed pita half).
Cumin is such a terrific spice - not everyone likes it, but personally, I can't get enough. I usually take it easy on the cilantro - it's not a flavor I particularly enjoy, but I don't mind it in very small amounts. And I skip the sour cream and just put slices of avocado on top - I don't trust fat-free sour cream ... I mean, it's
cream
- if you take all the fat out, what are you eating besides chemicals? I'd rather just have plain avocado, one of nature's most delicious and perfect foods.