First and foremost, I can't thank you all enough for your comments and your support after yesterday's post. It really means an awful lot to me, and I'm so happy to know I have such an amazing, supportive community here.
This was a really challenging week. I haven't had a week this tough since the beginning, when I was first getting used to eating well and exercising. Of course, those were different challenges. This week was more emotionally difficult. There was that jerk from Wednesday night, but also, I cried a lot for seemingly no reason. Example: I don't get cable, but I read about the new show "Mike and Molly" on CBS and decided to check it out online. Sobbed almost the entire time. It might just have been period-related hormonally-charged hypersensitivity, but still, it was a lot to deal with.
In spite of the thorns, I managed to have a really successful week. I worked out a lot, ate well, drank lots of water, and started taking a multivitamin. And in the end, I lost six pounds ... which means I have officially met my second weight loss goal. I now weigh less than I did in June 2004 when I had my college entrance physical! I'm down a total of 43 pounds, about 12.5% of my starting weight. I'm only three pounds away from dropping the "3" out front, and that thrills me. I hope my October challenges (The Power of Ten and the 10/10/10 stairathon) will help get me there!
Also, an amazing rose for this week: my kid brother told me that he wrote me a letter in school and then he mailed it to me. (He's 9 and in fourth grade.) It was just what I needed to find on Tuesday. An excerpt: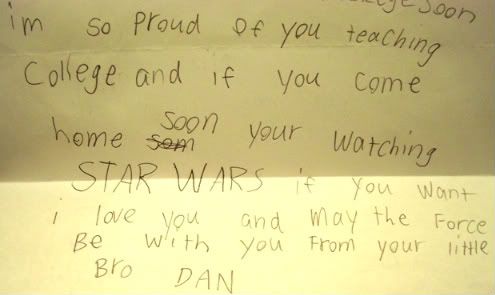 A-stinkin'-dorable. I miss that kid so much.