Since my family lives nearly nine hundred miles away, our main modes of communication are phone calls and video chatting. With all the frustrations that come with modern technology, I have to say, I'm still glad for video chat. I get to see my family every now and then, which helps me feel less homesick during the six months between visits. We can catch up on daily life - my brother tells me about school (and, invariably, the latest Lego creation he's made), my sisters talk about friends and how work or school is going, my mom complains about my dad, my dad complains about my mom, and I miss them all. I even miss my mom when she shows me the spinach bread she just made, or when she eats a cupcake and describes just how delicious every single bite is. Jerk.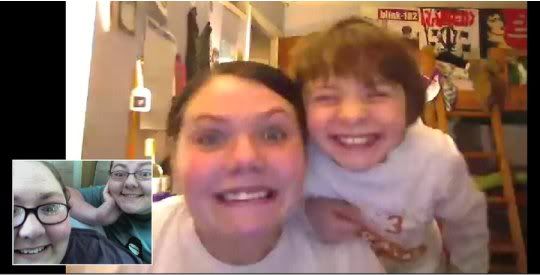 I tell them what I am up to with work and the things I've done around Chicago. I try to tell them about healthy recipes, but that's usually met with a "Oh, that sounds good - you know what would make it even better?" and then a list of four or five things I can't be touching with ten-foot poles. I tell them a few things about exercising and losing weight, but not much. They know I walked the 5k and that I did the stairathon, but I haven't updated them on numeric losses in about twenty pounds. It's apparent when they see me that I've lost weight, but I haven't given specifics. One of the worst moments of the past week was when my mom and my sister Lisa were chatting with me, and Mom says I look good but the first thing out of Lisa's mouth is "Your boobs look smaller." *sigh* Don't remind me...
One of the things I was talking about a few weeks ago was how much I love blogging and the community that I have found here. My mom first asked what a blog was (she's not the most tech savvy lady on the planet), then asked if she could read it. And it took a lot for me to say no. I want my family to know that I am doing well, but I feel very conflicted into letting them into this little corner of my life.
This blog is very therapeutic for me - it's a space to clear my head, and I feel safe here. Sometimes it surprises me how honest I am about things here, because in real life, I'm a fairly secretive person. I have a few close friends, and I feel I can tell a lot of things to my family, but in general, I'm very guarded. I don't usually let people get very close - which I am certain is weight-related. I've always felt weak because of my weight, so being very private and closed off makes me tough and strong ... or at least, I have always justified it that way.
Lately I have wondered if I should let my mom read it, or my sisters, or friends. I want them all to have the healthiest life possible, and maybe seeing my progress might help them? Someone on the Twitter Fitblog chat Tuesday night expressed it perfectly: I can't motivate my family/friends, but I can inspire them. And I think that is just what my family needs. I don't think they even own a scale, and the last time my mom said anything about my weight was in sixth grade maybe (I remember it very clearly - we had a talk in the car after my yearly checkup, and she said we needed to get healthy as a family, and we were going to McDonald's for lunch as a "last hurrah.") If they could see that big, glaring
345
, maybe it might hit them just how bad the problem is? My parents are sweet and loving but very blind to how serious the weight problem is in our family.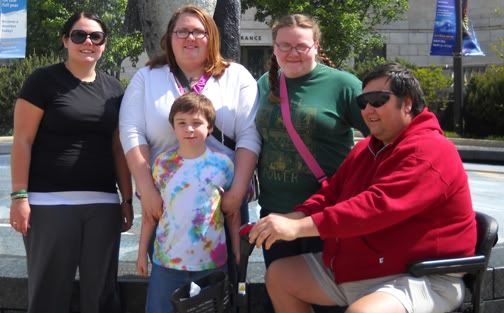 I'm just so worried for them, that's all. I want my dad to live long enough to meet his grandkids. I don't want my mom to have diet-related heart problems like her mother did. (I don't think I ever saw my grammy eat anything besides grilled cheese or chocolate chip cookies.) I don't want my sisters - or anyone, for that matter - to end up as big as I was. I want my brother to grow up and take every opportunity he wants without feeling restricted by his size and without being picked on for being fat.
What about you - do your family/friends know you blog? Do they read it?