I have quite the collection of pictures of myself taken in mirrors. With viewing screens on the back of digital cameras, it's easy to check the reflection and make sure it's a good picture before snapping it.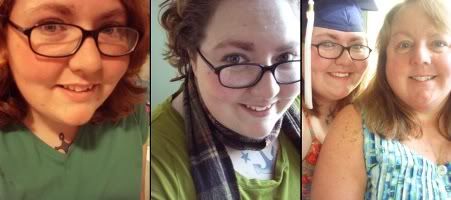 (There's about twenty pounds of increase from one picture to the next.)
It's funny, because I have always generally avoided mirrors since they made me face the reality of how big I was, but with a digital camera and the proper angles, you can focus only on the good parts.
I know I still have a very long way to go with my numeric weight loss, but I'm extremely pleased with the great strides I have taken so far to work on my self-esteem. I like looking at my reflection in the store windows as I walk my on my evening walk - I'm shrinking! I'm smiling a lot more - not only because I look better, but because I physically feel better - and having a positive attitude is absolutely contagious.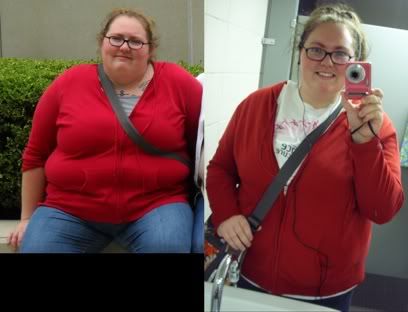 (Left picture is May 13. Right picture is October 3.)
Another great side effect from losing weight and getting more active is that I am taking much more interest in the care and keeping of my body. At 345 pounds, I figured that no one else was looking at me so why bother looking nice? Now, nearly fifty pounds lighter, I'm finally realizing that it doesn't matter who else is looking at me, and I should be looking nice for myself. I keep my nails neat and trim, I wear clean clothes and shower at least once every day, and I don't hide under big sweatshirts. I'm working so hard to get a healthy, more attractive body, and I want to show it off!
One silly simple change is my hair - I'm in the market for a flattering new haircut/style. I've always just bought the cheapest shampoo and conditioner because it didn't matter to me if my hair looked good, I always just swept it up into a ratty, unbrushed ponytail. Last week, I spent an extra buck and a half on Aussie Moist shampoo and conditioner, and, oh my goodness, it's amazing. My hair is soft! It feels healthy! And I love the way it looks! It's a small difference, maybe unnoticeable to anyone but me, but to me, it's phenomenal. My entire world is feeling different ... and I love it.