Another successful week for the books! I am feeling super recharged - it's been a rough couple of weeks, but I am back on track, keeping active and genuinely feeling amazing.
My positive sign for the week: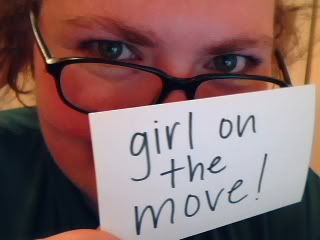 Taken after the 5k yesterday. I am a girl on the move! I'm going places! It's an incredible feeling.
Challenge start weight:
332
Current weight:
292
Down another four! My post-Katie visit attitude is gone, and I'm back on track in a huge way.
Progress on my DDGbG goals:
This week's recipe was a semi-fail: I tried my hand at sushi. I had the greatest of intentions, and it tasted delicious, but it was really lacking aesthetically. I hesitated before taking a picture, and then again before uploading.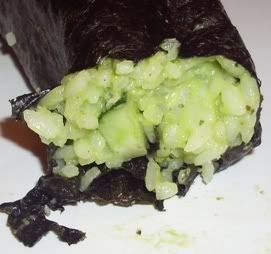 Yikes.
Sushi is totally delicious and can be made healthier by skipping things like tempura or soy sauce - a lot of places also add mayonnaise to their rolls, and one of the recipes I consulted even suggested it! I decided it was unneccesary calories and so I skipped it, but I don't think that contributed to the awkwardness of my sushi rolls.
Problem #1 - Sushi is deceptively hard to roll. The chefs make it look so simple! It isn't.
My solution: Just kept trying.
Problem #2 - Because I am not a professional, I had a hard time judging how much stuff to put in the roll. It seemed like enough but when I went to roll it, it turned out funny.
My solution: Combine the rice, avocado, cucumber, and imitation crab meat into an indistinguishable mixture. That'll stay put when I put it on the nori!
Problem #3 - Apparently none of my knives are sharp enough to cut through the softened nori to make proper rolls. Not that it would have turned out beautifully anyway thanks to my mashed up filling disaster.
My solution: I ended up sad and shamefully eating it like a sushi burrito - still delicious, but somewhere, a Japanese sushi chef was rolling in his grave.
One roll (about eight pieces cut up) is a little over 250 calories - not to mention the perfect mixture of creamy and crunchy textures, a little salty from the rice and a little sweet from the crab. So I want to get this one right! I didn't win this time, but I am not ready to surrender. I will try it again some time soon-ish, and when I finally master it, I will share again!
ONE thing that you are proud of for the week:
Shaving over fifteen minutes off my total 5k time! The Race for the Cure walk was with a friend, so we dawdled along and talked a lot and finished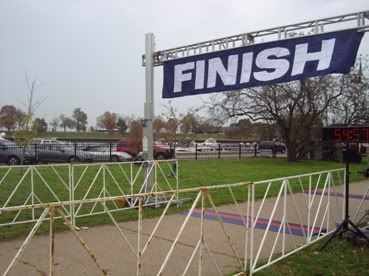 at around one hour, ten minutes. This one I did by myself, just me and my iPod, and I finished in fifty-four minutes, twenty-six seconds! I'm pretty happy.
I also finished Week 1 of the Couch-to-5k, which I am totally loving. I absolutely love the challenge of training for something - it's the rush of the stairathon all over again! I am going to try Week 2, Day 1 today, but if I need to repeat Week 1, I'm completely okay with that. The program takes nine weeks, and I have just over four months until the 5k at Disney - I don't want to push myself too hard, but I also need to keep in mind that Disney requires a sixteen minute mile or better to get a finisher's medal.
ONE thing that you can improve upon for the following week:
Staying positive! Every day I try my hardest - I give my all, and that's all I can give. There's a clear correlation between thinking positive and feeling good. I'm making huge strides, and I need to just stay positive and keep all my achievements in mind - not just the numbers.